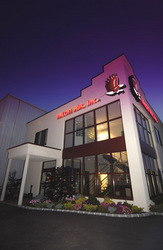 "Since 2004 Talon Air has operated flights into DCA under the DCA Access Program. The ability to depart from our home base is very attractive to our clients."
Farmingdale, New York (PRWEB) September 24, 2010
TALON AIR, New York's fastest growing full service luxury private jet management and jet charter company, has resumed operating direct flights in to Ronald Reagan Washington National Airport (DCA) in Washington, DC. The Transportation Security Administration (TSA) has added New York's Republic Airport (FRG) to the list of Gateway airports under the DCA Access Standard Security Program (DASSP).
"Since 2004 Talon Air has operated flights into DCA under the DCA Access Program. The ability to depart from our home base is very attractive to our clients," said Jason Sanders, Senior Vice President. "By approving Republic Airport as a DCA portal, the TSA is connecting local Long Island businesses with the Washington, DC community. The first of many flights have already been scheduled."
The DASSP calls for advanced qualification and background checks of crews, TSA inspection of crew and passengers, and baggage screening, among other requirements. One of the most significant requirements is that an approved and armed law enforcement officer must be on board the private jet during each flight. These law enforcement officers are trained and certified by the TSA. Operators who fly into DCA must arrive from an approved portal airport such as Republic Airport (FRG). The portal airports are spread across the U.S., but many of them are concentrated in the Northeast.
To learn more about Talon Air's services and charter fleet or to request a charter quote to Ronald Reagan Washington National Airport (DCA), visit http://www.TalonAirJets.com or call 1-631-753-8881.
About Talon, Air Inc.
Founded in 2001, Talon Air has become New York's fastest growing boutique aircraft management company providing luxury private jet charter and maintenance services. Headquartered at Republic Airport (FRG) in Farmingdale, New York, Talon Air, Inc. is located in a brand new state of the art 100,000-sq-ft hangar and office complex. Talon continues to be an innovator in the air charter industry delivering an unparalleled level of consistency and customer service. The vertically integrated private jet fleet includes the Sikorsky 76B Helicopter, Cessna 208B Grand Caravan, King Air B200, Hawker 400XP, Hawker 800XP, Hawker 4000, Challenger 300, Legacy 600, Challenger 604 and Gulfstream IVSP private aircraft. All of Talon Air's ATP, FlightSafety and CAE SimuFlite trained pilots and factory trained A&P mechanics are Talon employees. Talon Air is Wyvern Wingman, ARG/US Platinum and an IS-BAO Registered company currently holding the highest industry safety ratings.
# # #