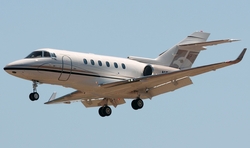 Our direct relationships with Fortune 500 Companies, corporate flight departments and our distinguished block clients provides a steady stream of charter hours.
Farmingdale, NY (PRWEB) September 29, 2010
TALON AIR, the Northeast's fastest growing luxury private jet management company, announced today that it has added a new Hawker 900XP midsize jet to its managed fleet of corporate aircraft. Talon Air's customizable management programs give aircraft owners access to their very own flight department. Managed clients can focus on their core business knowing that their aircraft is maintained and operated by an organization that meets the industry's highest safety standards and is flown by a professional ARG/US Platinum and Wyvern crew.
"Talon is known for our commitment to customer service." said Jason Sanders, Senior Vice President. "By investing in infrastructure and our employees we can offer aircraft owners every service they need under one roof."
Talon Air is a Part 135 Air Carrier and Part 145 Repair Station. This allows Talon to not only maintain aircraft in an impeccable condition, but provides aircraft owners with sufficient charter to defray their cost of ownership.
"When an aircraft is not in service for the owner, Talon's seasoned sales force develops charter flights." said Paul St Lucia, Director of Sales. "Our direct relationships with Fortune 500 Companies, corporate flight departments and our distinguished block clients provides a steady stream of charter hours."
The backbone of the company is Talon's Charter Department. The charter coordinators are available 24/7/365 and serve as the clients' very own concierge – arranging everything from ground transportation and in-flight catering to hotel accommodations and spa treatments. With guaranteed availability within the Talon fleet, owners have access to not only their aircraft but to an entire diversified fleet of aircraft. This option allows them to use multiple aircraft and provides the flexibility to choose the correct aircraft for each individual mission. Talon's pool of full-time pilots ensures that the aircraft is always covered and gives our owners the ability to use multiple crews when necessary. This coverage gives peace of mind and the freedom to travel when and where you wish while knowing the pilots are always well rested and ready for your departure.
To learn more about Talon's aircraft management programs or to request a quote for a private jet charter flight on this or any of the Talon fleet, visit http://www.TalonAirJets.com or call 631.753.8881.
About Talon, Air Inc.
Founded in 2001, Talon Air has become New York's fastest growing boutique aircraft management company providing luxury private jet charter and maintenance services. Headquartered at Republic Airport (FRG) in Farmingdale, New York, Talon Air, Inc. is located in a brand new state of the art 100,000-sq-ft hangar and office complex. Talon continues to be an innovator in the air charter industry delivering an unparalleled level of consistency and customer service. The vertically integrated private jet fleet includes the Sikorsky 76B Helicopter, Cessna 208B Grand Caravan, King Air B200, Hawker 400XP, Hawker 800XP, Hawker 4000, Challenger 300, Legacy 600, Challenger 604 and Gulfstream IVSP private aircraft. All of Talon Air's ATP, FlightSafety and CAE SimuFlite trained pilots and factory trained A&P mechanics are Talon employees. Talon Air is Wyvern Wingman, ARG/US Platinum and an IS-BAO Registered company currently holding the highest industry safety ratings.
###