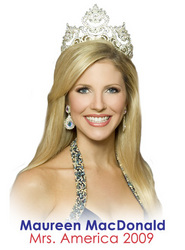 While we understand, respect, and support the world's global economy, and do so materially with our annual production of the Mrs. World competition, it is absolutely the right time for us to come together as one, united American family and step-up by taking personal responsibility for our nation's current financial crisis; and, that begins at home
Beverly Hills, Calif. (PRWEB) April 5, 2009
The Mrs. America (http://www.mrsamerica.com) and Mrs. World (http://www.mrsworld.com) competitions represent the rich and diverse history shared amongst married women nationally and internationally. These colorful and highly entertaining LIVE prime-time televised competitions are produced annually, and highlight the contestants' personal accomplishments ranging from career, family, and community to talent, beauty, fashion, health and self-improvement.
The Mrs. America competition, which has been successfully representing married woman for over 32 years, along with her younger international sister, Mrs. World, will continue the renowned tradition in 2009. This year, Privilege Media Group (http://www.pmgintl.com) will launch new global multi-platforms leveraging the Mrs. America brand equity to include television, radio, online, mobile, and print, and introduce a new Mrs. America lifestyle brand. The new Mrs. America lifestyle brand will include a Mrs. America licensing program for a woman's fashion clothing line, fashion jewelry and accessories line, cosmetics line, perfume line, and other relevant and inspired products and services. Recognizing the important role shared by married woman across America, in particular, the critical impact their personal purchasing power, coupled by their influence on their family's purchasing power, has on the American economy, Mrs. America will introduce a Mrs. America SEAL OF APPROVAL Program in support of the Mrs. AMERICA FIRST non-profit organization.
The Mrs. America SEAL OF APPROVAL Program will endorse quality products and services which meet specific guidelines and criteria, including products that are made in America, are environmentally safe, and services which are based in America and not outsourced to other countries.
"While we understand, respect, and support the world's global economy, and do so materially with our annual production of the Mrs. World competition, it is absolutely the right time for us to come together as one, united American family and step-up by taking personal responsibility for our nation's current financial crisis; and, that begins at home," says Mr. David Marmel, President and Co-Founder of Mrs. America. "We need to get involved, and educate ourselves on how we can work together in order to help re-build a better America, and that is precisely why we have decided to establish the Mrs. AMERICA FIRST non-profit organization, which will serve as both a resource and an advocate on behalf of this very important issue," adds Mrs. Elaine Marmel, Senior Vice President and Co-Founder of Mrs. America.
The 2009 Mrs. World competition, which has already cleared over sixty-three markets to date and continues to gain momentum in additional markets, will be broadcast LIVE from Vietnam on November 22, 2009. The location and logistics for the 2009 Mrs. America competition will be confirmed later next month. "At this time, Privilege Media Group is reviewing our proprietary and strategic launch plans regarding the production, distribution and/or syndication of the 2009 Mrs. America competition. We are currently reviewing sites for the competition, as well as, television and/or cable network partners who will most effectively reach our target market while successfully reinforcing our new lifestyle brand message for Mrs. America. There are many new and exciting developments which we will be introducing in connection with the 2009 Mrs. America competition, including online interactive modules and community forums, a lifestyle-entertainment reality based television series, and the premiere of 'TheWedding': a featured segment during the Mrs. America competition's televised broadcast highlighting the wedding day, everything from wedding gowns and receptions to honeymoon destinations," states Johnathan Michel, President & CEO of Privilege Media Group and executive-in-charge of the Mrs. America and Mrs. World client account at the agency.
# # #