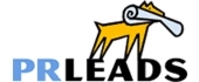 PR LEADS Complete A to Z Article Marketing System
Minneapolis, MN (Vocus) February 3, 2009
PR LEADS Article Marketing Experts today launched their 2009 edition of their "PR LEADS Complete A to Z Article Marketing System" consisting of 7 different ebooks and special reports that take you by the hand and teach you step-by-step how to write your way to profits.
Inside the 2009 edition of the "PR LEADS Complete A to Z Article Marketing System" you will find these ebooks and special reports:

88 Ways to Instantly Banish Writers Block -- This is the ultimate shortcut to beating writers block!
Article Writing Secrets Revealed -- This ebook was designed to make writing article copy easier and more effective for you.
69 Ways to Make Money with Articles --This ebook will teach you how to create multiple streams of income just by using articles.
Guide to Writing How-To Articles -- This guide walks you through every single building block for writing an effective how-to article.
Article Marketing Myths Exposed - This ebook reveals the biggest mistakes people make when writing and submitting articles online.
10 Calls to Action That Will Pull in Readers By Their Throats - This special report details ten irresistible offers that will pull readers to your website so you can get them on your list.
Guide to Getting Your Articles Published -- This guide reveals twenty-five of our top article submission tips that will help you get your articles published on the top websites, ezines and article directories.
Here's what customers had to say about our recent editions of the "PR LEADS Complete A to Z Article Marketing System:"
"Your A-Z article package is excellent. I am working on implementing some of your ideas (there are so many that I'll be busy with them for the rest of the year. It's helping me on my article writing and to add some innovative ideas to my website. Thank you very much for the information!" said Emilia Klapp, R.D., author of "Your Heart Needs the Mediterranean Diet."
"You really did pack your A to Z system with rich information I can use immediately. For the value I'm receiving you under-priced the product and over-delivered on value and service," said Annie Spiegelman, president of The Dirt Diva.
"I was a bit skeptical about your ebook delivering on all that you promised it would but I must say I am really impressed. Now, I have a lot of printing to do so I can actually highlight the important information I want to study in my ebooks. And, yes, you absolutely have my permission to use my words as a testimonial as I mean every word of it," said Leketha Johnson, children's book author of "Sunny's Adventures."
For more information on the PR LEADS Complete A-to-Z Article Marketing System please go to http://www.BroadcastYourArticles.com or email us at Eric @ prleads.com.
About PR LEADS Article Marketing Experts
PR LEADS Article Marketing Experts founded by Dan Janal is the total solution for public relations agencies, web marketing firms, small business owners and Internet marketers who need to get more website traffic, prospects and clients. Services include online business consulting, article writing and article placement on top websites like About.com - one of the top 50 sites on the Web!
Their product line includes:

All these products are designed to remove the guesswork, waste and frustration out of getting easy traffic, free publicity and increased sales on a daily basis.
To learn more about PR LEADS Article Marketing Experts please go to http://www.iwantmoreprospects.com or email eric @ prleads.com
###