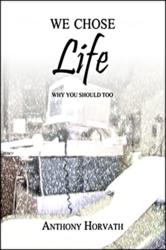 "It may be surprising to some," says Horvath, "but one's views on God have consequences for our views on Man."
(PRWEB) October 05, 2012
Anthony Horvath, the Executive Director of Athanatos Christian Ministries, a Christian apologetics ministry, has announced a series of projects designed to link a person's worldview to their attitudes on life issues.
In 2006, Anthony and his wife were informed at the 20 week ultrasound that their daughter had spina bifida and were asked on the spot if they wanted to abort her. The choice was easy for them, even if the situation was hard. In his 2007 book, We Chose Life: Why You Should Too, Horvath says that his Christian faith enabled them to make the right decision, even in the midst of their crisis.
Since then, Horvath has been researching, writing, and speaking on the reasons for the high abortion rates of children diagnosed with birth defects such as Down syndrome, spina bifida, and cerebral palsy, to name a few. According to some estimates, 90% of all children in America diagnosed with a birth defect are aborted.
He was startled to learn to what degree these abortion rates have been spurred on by eugenics movements in the 1950s reshaping their approach in light of the bad reputation they earned thanks to Hitler and his Nazis. On his blog, Anthony explains how men like Frederick Osborn, S.C. Reed, and a host of others called for 'genetic counseling' services that would rely on 'voluntary unconscious selection' as their future strategy. In other words, getting people to abort the types of children that the eugenicists did not like, while having them think it was their idea.
These organizations are still in existence today, though their names have changed.
Horvath has launched a pro-life petition project in the hopes of spurring legislators to think more carefully about what types of things our taxes are funding. Horvath will personally deliver the petition with its signatures to legislators and their staffers at both the state and Federal level.
Athanatos Ministries has hosted online apologetics conferences for several years. The 2013 one will be specifically organized to address the connection between one's worldview and one's attitudes on life issues.
"It may be surprising to some," says Horvath, "but one's views on God have consequences for our views on Man. Our conference will develop that theme further."
For information about the petition project, people are encouraged to visit athanatosministries.org for more information. The online conference website is onlineapologeticsconference.com.