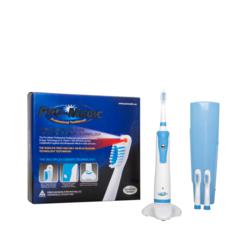 We are very excited to have successfully combined revolutionary technologies in one toothbrush and to make it accessible and affordable for all individuals seeking a solutions to address their oral health needs and those of their family members
Chicago, IL (PRWEB) January 10, 2013
Most people would be surprised to learn that, as Charles Duhigg, author of the new bestselling book The Power of Habit, points out, tooth brushing was not a widely-accepted practice until the beginning of the 19th Century. Fast forward to 2013, when consumers have a wide array of options for caring for their own oral health and appearance. There is a myriad of products to choose from, including toothpastes, flosses, whitening products, and toothbrushes, both manual and electric. Those choices can be overwhelming, particularly for those with sensitive teeth and gums. A new toothbrush that employs multiple leading-edge technologies is now available that can provide a simple solution for individuals concerned about maintaining or improving their oral health and appearance.
The Pro-Medic Professional VIS-IR Ultrasonic Rechargeable Toothbrush, developed by researchers at United Laboratories and Manufacturing LLC (ULMC), uses advanced, patented acousto-optic technology coupled with patented dual sonic frequency technology to provide multiplicative effects to oral care. For the first time, consumers can now access the daily benefits of visible and infrared light therapy together with ultrasonic massage at home in one affordable rechargeable toothbrush.
A variety of long-term studies conducted by NASA and the U.S. Military over the years have shown the overall wound healing benefits and antibacterial and cell rejuvenating effects that visible and infrared light therapy can offer in a variety of clinical contexts. And now this technology, with visible and infrared light-emitting diodes (LEDs) pulsing at 4 MHz ultrasonic frequency provided by the Pro-Medic Professional VIS-IR Ultrasonic Rechargeable Toothbrush, is effective in helping to reduce bleeding gums and gingivitis, as shown in a recent study published on December 21st, 2012 by Dental Hospital of Periodontics at Dankook University in South Korea. The protocol on this study was reviewed and approved by the Institutional Review Board of Dankook University in 2012 (Protocol No. H1203/003/001).
For individuals with sensitive teeth or gums, the toothbrush's manual brushing option that employs only light and ultrasound therapy may be a particularly welcome alternative. In addition, the combined new technologies may offer users deeper tooth whitening without harsh chemicals currently associated with many other personal tooth whitening regimens. "Dental disease, from bleeding gums to gingivitis to even tooth loss, is largely avoidable with good preventive care," said Dr. Henryk Malak, Ph. D., President of Technology of ULMC- Pro-Medic and an inventor of the Pro-Medic technology. "This is why we are very excited to have successfully combined revolutionary technologies in one toothbrush and to make it accessible and affordable for all individuals seeking a solutions to address their oral health needs and those of their family members."
Dr. Henryk Malak, a renowned scientist who has authored and co-authored more than 80 scientific papers, has 11 current and applied-for patents involving revolutionary technologies in the biomedical field. He also has been awarded NASA and NIH research grants, among others, and has served as Assistant Professor and Assistant Director of the NIH Resources Center. Dr. Malak currently is Adjunct Associate Professor - Department of Physics at the University of Maryland.
United Laboratories and Manufacturing LLC (ULMC), developer of the Pro-Medic Professional VIS-IR Ultrasonic Rechargeable Toothbrush, was established in 2005 with the mission of using leading-edge experience in research and development to offer consumers advanced science products that effectively promote health, hygiene and beauty needs. The Pro-Medic Professional VIS-IR Ultrasonic Rechargeable Toothbrush is now available to consumers at Amazon.com, KMart.com, Overstock.com, and other fine retailers. For more information visit http://www.Promedic.us.