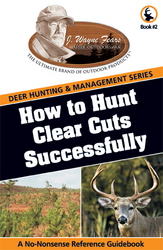 Pottstown, PA (Vocus) April 6, 2010
Clear cuts, much to the surprise of many hunters, can be a trophy hunter's bonanza. To be successful, the hunter must understand the role clear cuts play in the deer's overall habitat, and how to hunt the various stages of clear cut growth.
Author and master outdoorsman, J. Wayne Fears, has written a book that examines the growth stages of clear cuts, the value each stage is to the deer, and the various ways to effectively hunt each stage from year one through 30. This 144-page paperback also addresses long-range shooting techniques and how to hunt corridors found in clear cuts.
How to Hunt Clear Cuts Successfully is a guidebook to help you learn how to harvest big whitetail bucks in a clear cut by using the right hunting technique at the right time. Author J. Wayne Fears states, "One of the challenges to hunting a clear cut for a period of years, is that each year the forest changes and requires that the hunter adapt. Those who can adapt will find clear cuts, in good deer country, to be a new source of hunting where the woods aren't crowded with hunters and the bucks grow big." How to Hunt Clear Cuts Successfully tells you how.
How Hunt Clear Cuts Successfully is available for $8.95 at http://www.protoolindustries.net.
J. Wayne Fears has worked with white-tailed deer and deer habitat improvement for four decades. For almost ten years, Wayne was the Forest Recreation Manager for a major paper corporation where he was responsible for managing one-half million acres for deer. He has written a number of books on deer hunting and management including Hunting Whitetails Successfully, which sold over 500,000 copies. How to Hunt Clear Cuts Successfully is the second of a series of guidebooks on deer hunting and management Fears is writing for Pro Tool Industries.
###