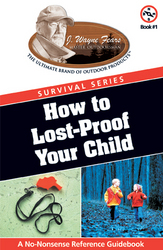 Pottstown, PA (Vocus) February 9, 2010
Each day in the United States over 2,000 children get lost, some in the malls, some in the woods. Most lost situations last only a few terrifying minutes until the child is found, others may take hours or days. The Center to Prevent Lost Children states that 7 out of 10 children will get lost at least once and that less than 9% of parents are prepared for a lost child situation.
J. Wayne Fears has written a book that tells parents and guardians of children, from toddlers to teens, how-to "lost-proof" their children in a variety of settings including: public outdoor recreation areas, shopping malls, amusement parks, wilderness areas and other places of public gathering. How to Lost-Proof Your Child explains how to create a plan that will lost-proof the child, how-to teach children what to do if they become lost and what the parent or guardian should do if a child is lost.
How to Lost-Proof Your Child is a 144 page paperback guidebook to help you prevent losing your child. It prepares you as to what actions to take to quickly get the child back in the event he or she becomes lost. J. Wayne Fears, an experienced survival expert, states, that you should always "expect the unexpected" and dress your child to stand out in a crowd or in the woods. He explains that the child who has been taught what to do, when lost, by using role-playing stands a much better chance of being found safely than a child that has never had any training. This guidebook tells you how.
About the Author
J. Wayne Fears has had over 4,800 magazine articles and 24 books published. How to Lost-Proof Your Child is the first of a series of guidebooks on survival he is writing for Pro Tool Industries. Future books will include titles on fire making, signaling, emergency shelters, children's survival, navigation and many more. How to Lost-Proof Your Child is available for $8.95 at http://www.protoolindustries.com. An advanced reading copy of this book is available to the media for review upon request.
###