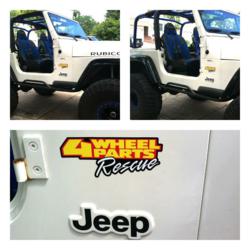 Sean Lockwood, manager of 4 Wheel Parts Store in Westminster, Colo., started taking donations and put together a Cool Rides Cruise to bring donated items to wildfire victims in Colorado Springs
Westminster, CO (PRWEB) July 25, 2012
On June 23, the residents of Colorado Springs first found out about a fire that had started in Waldo Canyon. By June 27, the fire was being fueled by winds blowing more than 65 mph and headed in three different directions. Hundreds of residents had to be evacuated from their homes, and resources across the state quickly became strained.
The night of June 27, the fire was all over the news. The Waldo Canyon Fire was headed for the populated areas northwest of Colorado Springs, the Air Force Academy campus, and Mountain Shadow. The fire was moving block after block burning homes and commercial properties. It was estimated that over 32,000 people where to evacuated and sent to local shelters and hotels.
Sean Lockwood, manager of 4 Wheel Parts Store in Westminster, Colo., started taking donations and put together a Cool Rides Cruise to bring donated items to wildfire victims in Colorado Springs. Lockwood and his crew set aside a few Smittybilt nerf bars and turned the Westminster 4 Wheel Parts into a donation center, accepting water, pet supplies, food, money, and other items. Within a week, the crew put together the Cool Rides Cruise to deliver the donations from the store to the evacuees at the Cheyenne Mountain High School evacuation center. 4 Wheel Parts, well known for carrying huge selections of Smittybilt gear and other truck parts, regularly participates in community-centric activities such as these. The event was planned for June 30, with more than 50 cool, custom vehicles ready to make the 86-mile trip from Westminster to Colorado Springs. Each vehicle, some equipped with a Smittybilt winch, was packed with donations, and the convoy's trip took about one and a half hours to reach Colorado Springs.
When participants got to the north end of Colorado Springs, they could see and smell the smoke from the raging fires. The vehicles continued on to the school, where Lockwood found that the Red Cross didn't initially have room to accept the water and food donations. Salvation Army representatives were able to take the food and water, while Lockwood's crew finished the delivery by taking the donated pet food to the Colorado Springs Humane Society.
The Waldo Canyon Fire has caused $450 million in damages, with 346 homes destroyed, along with the loss of lives. With more than 100 individual donations, 4 Wheel Parts would like to thank everyone that donated an item or money to help the victims of this deadly, disastrous fire.
About 4 Wheel Parts: 4 Wheel Parts is a retailer and service provider specializing in aftermarket parts for off-road and 4x4 enthusiasts. With 56 locations nationwide, 4 Wheel Parts supplements its retail centers with a robust mail-order and e-commerce distribution network to serve customers around the country and around the world. This release was written by Sean Lockwood, Westminster, CO 4 Wheel Parts Store manager.