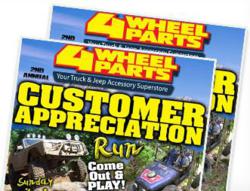 Florence Junction, AZ (PRWEB) September 27, 2012
The 4 Wheel Parts store in Florence Junction, Ariz., is organizing a customer appreciation run that will give local off-road and 4x4 enthusiasts an opportunity to enjoy a day on the trail in a fun, festive atmosphere. The customer appreciation run will take place from 9 a.m. to 5 p.m. on October 14, 2012. The event will also feature numerous activities for the entire family. Activities will include off-road trail riding, prizes, giveaways, food, beverages, and entry to the 4 Wheel Parts Florence Junction customer appreciation run is free of charge for all participants.
The big attraction for the customer appreciation run is the off-roading. Off-road enthusiasts will have three distinct off-road courses laid out through the Arizona backcountry, offering various types of obstacles and 4x4 trail-grinding action. There will be BBQ food available throughout the event, along with beverages, and there will be numerous prizes and giveaways scheduled throughout the customer appreciation event.
Participants of the customer appreciation run will also be able to take advantage of special offers and deals inside the 4 Wheel Parts Florence Junction store. There will be Pro Comp tires for sale, including tires from the Pro Comp Xtreme All Terrain series. Products from Smittybilt, Rubicon Express, G2 Axle & Gear, Bestop, and many other top industry manufacturers will also be available for sale, along with service and installation initiatives for equipment purchased in-store at the event. 4 Wheel Parts stores around the United States are conducting similar customer appreciation events, to help off-road and 4x4 enthusiasts prepare for the cooler autumn weather with savings on parts and installation.
About 4 Wheel Parts: 4 Wheel Parts at http://www.4wheelparts.com/ is a retailer and service provider specializing in aftermarket parts for off-road and 4x4 enthusiasts. With 56 locations nationwide, 4 Wheel Parts supplements its retail centers with a robust mail-order and e-commerce distribution network to serve customers around the country and around the world. 4 Wheel Parts carries a large inventory of truck and Jeep parts, including lift kits, tonneau covers, tires, winches, and more.