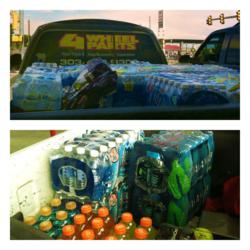 The donation drive, spearheaded by Assistant Manager Sean Lockwood, brought in more than 100 individual donations for fire victims
Westminster, CO (PRWEB) August 15, 2012
In response to the wildfires that ravaged areas of northern Colorado, 4 Wheel Parts, a leading distributor and retailer of Pro Comp Xtreme products and aftermarket parts for off-road vehicles, organized a donation drive to help victims and evacuees affected by the devastation. The management team and crew of the 4 Wheel Parts store in Westminster, Colo., worked tirelessly to provide relief from the devastation and loss, by organizing the event to accept much needed supplies like food, water, pet supplies, and cash then distributing them across the county by trucks.
The donation drive, spearheaded by Assistant Manager Sean Lockwood, brought in more than 100 individual donations for fire victims, but it soon became clear that the 4 Wheel Parts team would need to find a way to deliver the items. Lockwood organized a Cool Rides Cruise event, where volunteers used their custom rides, including Jeeps, Chevy trucks, Ford trucks, and SUVs equipped with Smittybilt XRC8 winches, to carry the supplies along the 86-mile route to evacuees in Colorado Springs.
Lockwood organized the Cool Rides Cruise for June 30, rallying a group of dozens of volunteers, who packed each participating vehicle to the brim with food, water, and pet supplies. The participants met at the 4 Wheel Parts location in Westminster, loaded the cargo, and then set off for Colorado Springs. When the caravan Rubicon Express and other vehicles reached the edge of Colorado Springs, the Waldo Canyon Fire was still visible along the horizon, with smoke billowing into the sky.
The caravan arrived at the Cheyenne Mountain High School evacuation center loaded with supplies, but the Red Cross could not find room to accommodate the donations. Lockwood offered the supplies to the center's Salvation Army representatives, who accepted them. The caravan then took the remaining cargo of pet supplies to the Colorado Springs Humane Society.
About 4 Wheel Parts: 4 Wheel Parts is a retailer and service provider specializing in aftermarket parts for off-road and 4x4 enthusiasts. 4 Wheel Parts is an official partner with Tread Lightly!, an organization dedicated to helping keep the great outdoors healthy, accessible and open to the public through ethics education and stewardship initiatives. With 56 locations nationwide, 4 Wheel Parts at http://www.4wheelparts.com supplements its retail centers with a robust mail-order and e-commerce distribution network to serve customers around the country and around the world.