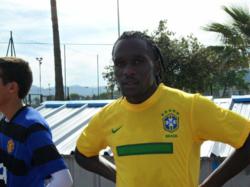 Cannes, France (PRWEB) July 30, 2012
EduKick France Footballer, James Njenga Kihato, impressed professional French soccer coaches while in Cannes, France from May 5 to 26 while attending the EduKick France – HIFA Professional Trials Program.
At the end of the 3 week period James had successfully secured a spot on the 3rd level senior team of the French professional Club AS Cannes.
The AS Cannes professional coaching staff was pleasantly surprised by the progress made by James from when he arrived and was very happy to state that it was a significant achievement for him to secure a spot on their 3rd level senior team in such a very short period of time.
The AS Cannes coaches stated that it was important that James needed the time to acclimatize to the French style of football and the requirements of serious professional level daily training. They stated they were sure that if James displayed the same determination, tough work ethic and ability to sacrifice during a Year Long period that he did during the 3 week program he would soon progress to the 2nd Level senior team and then the 1st Level team.
The goal of EduKick France HIFA (Hidalgo International Football Academy) is to provide intensive football programs in order to optimize the potential of young football players from 12 to 22 years of age. The EduKick France Senior Academy is located in Cannes itself, with all participating players residing at the International College of Cannes.
EduKick France offers competitive footballers worldwide several innovative football and education options. In addition to the annual "Pro Trial Program' that James participated in May, EduKick France also offers yearlong academic football boarding schools for both junior and senior international players interested in coming to France for an entire year to study and develop their football under professional French coaches.
The EduKick France Junior Academy campus, LES CAMPELIERES is located in nearby Le Cannet. It`s known as the "7 Hills Town", a quaint French village located just a few kilometers from Cannes and the sandy beaches of the famous French Riviera.
The EduKick France Co-Ed Junior Academy is particularly impressive and unique for international footballers from 12 to 15 years of age. The football coaches are former French internationals, Bruno Bellone and Christian Lopez. On the field, these two seasoned ex-professionals share their vast football experiences and knowledge with the academy players five days a week in training sessions immediately after school. Day after day the participating players increase their level of play and become more competitive soccer players by training with high level French players their age and by receiving quality coaching.
During the year the players are scouted and the best and most dedicated young players will have the opportunity to sign a contract at the end of the academic year. For the last 5 years, more than a dozen players have signed with the youth academies of professional clubs, including: OGC NICE, AS MONACO, OM MARSEILLE, FC SOCHAUX, RC STRASBOURG, and METZ. Contracts are of course not guaranteed but the track record of this French football academy is very impressive.
Last year, for the U17 group, 6 players signed a professional or semi-professional contracts with French clubs. Dylan BLITO, for example, signed a professional contract at the Centre de Formation of AS Monaco FC. He received a contract with salary and a special package for his family to reside close to him in Monaco.
Interested parties should inquire with EduKick headquarters located in Toronto, Canada about registration for the 2012/13 academic year.
EduKick Mission: To operate the world's leading international soccer/football and education academy boarding schools; building strong business relationships in a vibrant, creative and ethical international football environment. To teach, inspire and create the best technical footballers possible and create international students with inter-cultural competence (ICC) enabling them to compete in the modern competitive world.