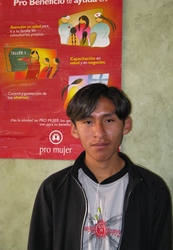 Pro Mujer makes it very easy to obtain a loan, much easier than the bank. It's a great opportunity to have someone help you with a business. I plan to go to university but I still want to maintain my business
New York, NY (PRWEB) July 17, 2008
Pro Mujer, a microfinance and women's development organization that provides the poorest women entrepreneurs in Latin America with credit, business training and health services, has launched a youth microloan program in El Alto, Bolivia, based upon a successful pilot program undertaken in late 2007.
Seeking to address the severe unemployment among young people in Bolivia where nearly half the population is under the age of 18, Pro Mujer in Bolivia is giving youth in El Alto, a poverty stricken city adjacent to La Paz, basic business training and credit so they can succeed as entrepreneurs. "Adolescents and young adults from poor families here struggle to find decent employment, to access training and financing to start a business," says Vivianne Romero, director of Pro Mujer in Bolivia. "We need to support our young people to improve their self-esteem and economic situation."
During the three-month pilot program, Pro Mujer made loans to 318 youths ages 14 to 23 (average age 17), disbursing US$31,000. An additional 39 youths saved money but did not take out a loan. The pilot program was made possible by a grant from the Bill & Melinda Gates Foundation.
Young people used the loans to operate or expand their businesses. Most of the young borrowers sell products such as cleaning supplies, cosmetics, toys, and CDs. Others make and sell clothes or sell food products or food they make themselves. The rest supply a service such as manicures or videotaping of weddings.
Before obtaining a loan, the young borrowers received training in business and money management skills. Pro Mujer trainers used written materials, role plays, games, videos and the Internet to teach the material. Most of the young people attended school. Approximately 64% operated a business along with other family members and 36% ran a business on their own.
Because of Pro Mujer's loans, 19 year-old Nelson Choque expanded his business. He buys sweaters made by his aunt, a longtime Pro Mujer client, and travels all night to Cochabamba where he sells them at the bi-weekly markets there. Nelson's first loan was 1,200 Bolivianos (US$166.) During business training, he learned how to save and the importance of marketing and repaying his loans. Now with his current loan of 2,000 Bs (US$276), he can purchase and sell more sweaters. Since joining Pro Mujer, his earnings have increased by 50% and he is now making a profit.
"Pro Mujer makes it very easy to obtain a loan, much easier than the bank. It's a great opportunity to have someone help you with a business. I plan to go to university but I still want to maintain my business," says Nelson.
To make loans, Pro Mujer organized young people into "solidarity groups" of five young people who guarantee each other's loans and apply and make loan repayments as a group. These lending groups are part of larger communal banks of Pro Mujer adult borrowers. Youth under age 18 require permission from their parents to participate and an adult to guarantee the loan.
Some women became mentors for the young borrowers. "Sometimes a young person will say 'I can't do it,'" says Ms. Romero. "But then a woman says, 'I have 8 or 10 children and I can do it, so of course you can be successful too.' Youth learn important values like being punctual and a sense of responsibility."
When Pro Mujer evaluated the program, parents said their children benefited from learning about personal responsibility, self-discipline, and the value of money. One parent said: "My daughter now knows how difficult it is to earn a living." Another told us, "My kids are not hanging out anymore."
Pro Mujer in Bolivia offers credit, training and health services to young people as it does to all of its adult borrowers. The program is among Pro Mujer's recent efforts to expand financial services in Latin America for its borrowers including insurance and housing loans.
About Pro Mujer
Pro Mujer offers financial services, business training and healthcare to poor women in Latin America, helping them and their families achieve economic security and improved health. Pro Mujer has presence in Argentina, Bolivia, Mexico, Nicaragua and Peru. Since its inception in 1990, the organization has disbursed more than US$383 million in small loans averaging approximately US$225 and has served more than one million women and their families. Clients have saved US$14 million, providing a financial buffer for their families in times of crises.
Pro Mujer is a 501(c)(3) tax-exempt organization. More information is available on the website, http://www.promujer.org.
###