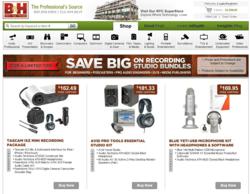 B&H Photo Video & Pro Audio Announces Solutions & Big Savings on Recording Studio Bundles
NYC, NY (PRWEB) August 15, 2012
B&H Photo Video & Pro Audio Announces Solutions & Big Savings on Recording Studio Bundles: From Beginners to Advanced
B&H Pro Audio recognizes that there are many people who are just starting out in the world of voice-over art or music. There are also many that are already advanced in this field. For this reason, B&H has put together packages for everyone—from the beginner to the advanced—so that all you have to do is plug in and record. From vocal solutions to music creation, there are Pro Audio bundles that will get one working immediately. Whether it is for podcasters, music producers, DJ's, videographers or photographers, there is something here for everyone.
Bundles include M-Audio, Pro Tools (Avid), Rode, Apogee, and much more. The goal was simple—to give every artist the opportunity to be able to afford the software and hardware they need to create and produce their music.
With over 15 specialized bundles, one can now use their talents and create their magic—and save hundreds of dollars. There are bundles that have savings up to $700. B&H is excited to deliver to the Pro Audio consumer something they've been seeking for a long time! Bundles start at just over $150 for the TascamIXZ MINI Recording Package.
With B&H Pro Audio "Solutions + Big Savings" it is a great time to launch projects, create and promote new and original material.
Connect with B&H Photo on the Web! (Facebook, Twitter, Tumblr, Google+, Pinterest, Flickr, YouTube, B&H Insights & InDepth)
About B&H Photo Video
As the world's largest source of photography, video and audio equipment, B&H Photo-Video is known worldwide for their attentive, knowledgeable sales force, and excellent customer service, including fast, reliable shipping. Visitors to the website can access a variety of enlightening articles and educational videos. B&H has been satisfying customers worldwide for close to 40 years.