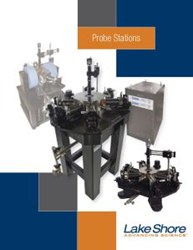 We are excited to offer this valuable resource to help customers understand their options and choose the best equipment for their application.
Columbus, OH (PRWEB) August 07, 2013
Lake Shore Cryotronics has released a comprehensive new catalog for its family of cryogenic and cryogen-free probe stations. The downloadable catalog contains detailed specifications for each probe station, as well as descriptions of options and configurations.
Lake Shore offers a complete line of cryogenic, magnet-based, load-lock and high vacuum micro-manipulated probe stations for characterizing the performance of early stage devices and materials. These probe stations enable reliable, unattended measurements at cryogenic temperatures and under the application of magnetic fields up to 30,000 G.
Academic and industrial research customers consider Lake Shore catalogs and documentation to be the industry standard, a valuable resource to support their work. The new catalog provides guidance on choosing systems for specific areas of research and applications, such as for nanoelectronics, semiconductors, MEMS and NEMS, and quantum devices.
The catalog provides operating cost and feature comparisons to ensure the system provides the best fit, lowest operating cost, and maximum flexibility for specific research environments. Lake Shore also includes a chart that shows initial costs versus operating costs when liquid helium (LHe) expenses are factored in. For many customers, a cryogen-free probe station may be the best solution, even if they have higher upfront costs than conventional liquid cryogen-cooled models.
In addition to cryogen and cryogen-free models, the Lake Shore family of probe stations includes models that offer:

Thermal control at the sample
Vertical or horizontal field
Magnetic, vacuum, and vibration control options
"Our research customers trust us to provide measurement solutions that garner repeatable, reliable results," VP of Sales Brad Dodrill said. "We are excited to offer this valuable resource to help customers understand their options and choose the best equipment for their application."
The catalog and more information can be found at http://www.lakeshore.com/products/Cryogenic-Probe-Stations/Pages/Cryogenic-Probe-Stations.aspx .
About Lake Shore Cryotronics, Inc.
Supporting advanced research since 1968, Lake Shore (http://www.lakeshore.com) is a leading innovator in measurement and control solutions for materials characterization under extreme temperature and magnetic field conditions. High-performance product solutions from Lake Shore include cryogenic temperature sensors and instrumentation, magnetic test and measurement systems, probe stations, and precision materials characterizations systems that explore the electronic and magnetic properties of next-generation materials. Lake Shore serves an international base of research customers at leading university, government, aerospace, and commercial research institutions and is supported by a global network of sales and service facilities.