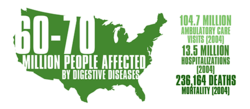 Learn The Truth About Digestion & Probiotics
(PRWEB) January 30, 2013
Probiotic specialists have recently published a new graph in an attempt to offer better and more accurate information that is easier to visualize in regards to digestive disease.
The statistical graph, found on TryProbiotic's website, references the number of US citizens affected by digestive disease, as well as the costs associated with the rising health concern. In addition, it highlights the number of deaths and types of disease affiliated with problems of the digestive system.
The graph is a compilation of staggering statistics derived from professional research. The information is displayed in a visually appealing format that is easy to read for viewers and allows for simple interpretation of the startling, yet valuable statistics concerning digestive disease.
The website has become a one-stop resource for individuals looking for information on the various forms of digestive disease and what can be done to prevent it.
The site has seen an increased amount of people looking for answers on preventative measures and solutions for digestive issues. It offers detailed information on probiotics; what they are, how they work, requirements to be considered a probiotic, what they are used for and their safety.
The primary focus of the website is to present factual, researched information to help inform people and spread awareness of the ever-increasing disease and what preventative measures or treatments are available. To learn more, visit http://www.tryprobiotics.com.