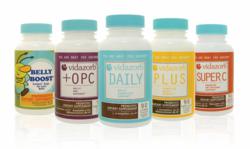 Beltsville, MD (Vocus/PRWEB) December 23, 2010
In the wake of the Federal Trade Commission's (FTC) recent crackdown on advertising claims made by Dannon, consumers may be more confused than ever about the benefits of probiotics. The FTC ruled that Dannon was making unsubstantiated claims regarding their Activia® and DanActive brand products—a yogurt and beverage, respectively, both of which contain selected probiotic strains. Due to these beneficial bacteria, Dannon claimed an ability to "help regulate your digestive system." Issues arose, however, when some consumers followed the directions and didn't experience any difference in their digestive systems or with "regularity."
Chief among the complaints against Dannon was that, though they stipulated daily use was necessary for improvement, they failed to specify how much Activa® per day was required to achieve the advertised results. The FTC ruled that Dannon should have been clearer, advising consumers that they must ingest Activia® three times daily for an extended period to experience any benefits.
Yogurt is usually the first thing that comes to mind when people think of probiotics, and therein lays a dilemma. The human body's reaction to the hundreds of different probiotic strains, adding up to trillions of bacteria in the digestive system is a complicated subject. One can imagine the challenge in educating the consumer on the differences between the benefits of each strain, how many Colony Forming Units (CFU's) represent a therapeutic dose and the different benefits of various delivery forms.
"While yogurt, in general, is a healthy food, products face two main challenges: keeping the bugs alive, and getting enough useful probiotic strains into each serving," said Frank Hodal, Founder of Vidazorb® chewable probiotics. "For example, we suggest adults take three of our Vidazorb chewable tablets per day, which approximates 20-30 billion CFU's. Those three Vidazorb® chewable tablets equal about 26 cartons of Activia yogurt. Not many consumers will eat that many yogurts in a day for weeks on end."
Eating vast amounts of yogurt daily poses difficulties for many people—even the three per day as suggested by Activia is a challenge. Not only must the product be refrigerated, making it difficult to be carried around all day, but, depending on the flavor, three portions amounts to about 300 calories and 50g of sugar consumed daily. And if you're lactose intolerant, well, forget it! Also, consumers are not sure how many CFU's they are ingesting and if they are of any benefit. Chewable probiotic supplements such as Vidazorb® may prove to be a more suitable solution for many people, as they are calorie-, gluten-, and lactose–free, as well as shelf stable at room temperature—meaning the "good bugs" stay alive without the need for refrigeration.
In addition, the labeling requirements for a dietary probiotic supplement make it very clear to the consumer exactly what is delivered with each dose. The most researched and effective strains for most health issues include L. acidophilus, Bifidobacterium, S. thermophilus. L. rhamnosus and B. coagulans. Consumers should look for one or more of these in their probiotic product.
"Consumers have to determine the best way to get adequate probiotics. In some cases it might be a combination of food—like yogurt—and a supplement like Vidazorb®. They need to do a little homework to make sure they are getting enough CFU's from the most effective and clinically proven strains available," concluded Hodal.
This FTC ruling could prove to be a positive step forward for the probiotics industry, where the variety and potency of formulations varies widely. Dannon produces dairy-based yogurts and smoothies, but the market is filled with an array of probiotic juices, capsules, tablets and the like. With so many options, the choice may be a difficult one for consumers and it is important that all advertising claims reflect researched and proven results.
About Vidazorb®
Vidazorb® represents the development of superior shelf-stable, chewable probiotic formulations to provide essential support for core health needs. Research and development, together with a commitment to quality and efficacy, defines Vidazorb® as a brand of integrity and excellence. For more information, visit http://www.Vidazorb.com. For engaging, kid-friendly probiotic information, visit http://www.Zorbee.com. To learn more about the importance of, and science supporting, probiotics, visit http://www.YouAreWhatYouAbsorb.com.
Vidazorb® can be purchased online at vidazorb.com and drugstore.com
For more information or to arrange an interview with a company spokesperson, please contact:
Leesa Raab, 212-693-2150 Ext. 314, Leesa(at)adinfinitumny(dot)com
Beth Hurtubise, 212-693-2150 Ext. 311, Beth(at)adinfinitumny(dot)com
###