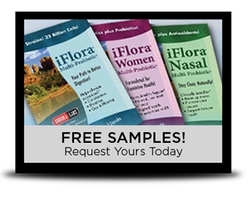 Taste, smell, and size play a significant role in the products people choose. The advantage to sampling a product, of course, is you can see and taste all this for yourself, first-hand!
Cottonwood, AZ (PRWEB) October 12, 2010
Sedona Labs has made unique, science-based supplement blends their business since 1987, and has built a loyal customer base through their nationwide retail distribution network. Customers view popular probiotic blends such as iFlora® Multi-Probiotic®, iFlora® Nasal, iFlora® Women, and the enzyme product SerraPhase® as essential daily additions to a healthy lifestyle.
"Efficacy is key to a quality supplement," says Donna Cappiello, Sedona Labs National Sales Manager. "Our customers know our supplements work for them, and often help spread the word about their favorite Sedona Labs product."
"We wanted to support the already growing network of health enthusiasts and get them excited about Sedona Labs natural supplements," says Cappiello, "with a completely risk-free way to try something new through our Free Supplement Sample Program. Being able to try a supplement before purchasing a whole bottle is a real benefit for smart shoppers, and it helps people feel confident in their health decisions."
Personal Experience and Online Research Informs Healthy Decisions
Consumers are changing the way they shop, according to new surveys and a recent Retailer Daily article that reveals 6 out of 10 Americans now research products online before making purchase.* Part of this online research is being able to virtually or tangibly experience the item through product information, online demos, reviews, and samples.
The Sedona Labs free sampling effort takes the "in-store" effect directly to the consumer by allowing them to touch and try products before committing to a purchase.
"Consumers are discerning when it comes to supplements," says Cappiello. "Taste, smell, and size play a significant role in the products people choose. Sedona Labs supplements are all small, easy-swallow capsules or softgels with no unpleasant aftertaste. Even our fish oil product has no "fishy" smell or taste. The advantage to sampling a product, of course, is you can see and taste all this for yourself first-hand."
Sampling Made Free and Eco-Friendly at Sedona Labs
Sedona Labs is currently offering consumers and retailers easy and completely free access to samples on their website, http://www.sedonalabs.com. Those interested need to simply provide a shipping address to receive a free packet of literature and one sample of each of the company's leading supplements:**

iFlora® Multi-Probiotic® – the premiere 16-strain probiotic blend to help relieve occasional constipation, diarrhea, gas and bloating.
iFlora® Nasal Sinus Support – probiotics and a powerful antioxidant to help break up mucus for clear sinus health.
iFlora® Women Multi-Probiotic® – targeted to support a woman's delicate microflora balance for vaginal and urinary health.
SerraPhase® Inflammation Response – a potent systemic enzyme that helps support normal, low levels of inflammation.
Each sample supplement is packaged in eco-friendly foil packs, which are produced using 100% wind power energy. Sedona Labs probiotics are manufactured using specific strains that are shelf stable, requiring no refrigeration, and travel well in shipping or for personal use.
For more information and to request a free sample, visit http://sedonalabs.com/samples.asp or call Sedona Labs at 888-816-8804.
You can also find Sedona Labs on Facebook for more free sample and product information.
*6 Out 10 Americans Have Researched a Product Online. Retailer Daily. Oct 4, 2010.
**These statements have not been evaluated by the FDA. This product is not intended to diagnose, treat, cure or prevent any disease.
# # #