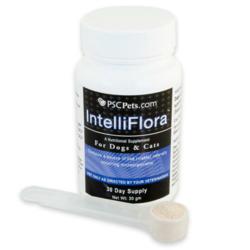 Menomonie, WI (PRWEB) May 27, 2011
ProbioticSmart.com introduces IntelliFlora™, designed by veterinarians as a probiotic supplement for dogs and cats, to their PSCPets.com line of pet health supplements. IntelliFlora™ is designed for the dietary management of dogs and cats experiencing diarrhea, gas, travel, change of food, or other stress-inducing conditions and should be fed daily.
IntelliFlora™ contains a proprietary blend of four live active beneficial bacteria and has been proven to promote intestinal health as well as healthy immune system functioning. Intelliflora™ also contains a variety of essential vitamins and nutrients including Vitamins C, A, E, Zinc, and Manganese which supports overall immune function. One leveled scoop of IntelliFlora™ (1 gm) should be sprinkled on a dog or cat's food daily.
For more information on IntelliFlora™ or any other PSCPets.com brand product, contact Shannon Stamper by email at shannons(at)probioticsmart(dot)com or by phone at 1-888-873-9719. To read more information online, visit the IntelliFlora™ page online - http://pscpets.probioticsmart.com/intelliflora.html .
ProbioticSmart.com, located in Menomonie, Wisconsin is a leading online retailer of health and nutritional products for people and pets.
###