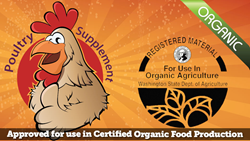 Being approved for use in Organic Food Production allows us to provide a tremendous value. Big ole Bird is extremely unique and has proven great results in commercial production.
Athens, GA (PRWEB) June 28, 2014
Southland Organics, a manufacturer of environmentally friendly products for agriculture and animal health, recently announced that its popular poultry probiotic marketed under the brand name Big ole Bird has been approved for use in certified organic food production and handling. Big ole Bird was approved under the Washington State Department of Agriculture Organic Food Program and verified to comply with an important section of the USDA National Organic Program.
Big ole Bird has achieved increased market share with commercial growers and poultry enthusiasts in its nearly two years on the market. The function and purpose of the product is to strengthen a birds' immune system by introducing beneficial organic acids and unique microbiology while improving the absorption of nutrients from their feed. Many commercial poultry growers and back yard chicken farmers report that, as a result of this product, they are growing healthier, larger birds, better feed conversion rates and improved egg production.
This approval from the WSDA certifies that Big ole Bird is an environmentally friendly product, free of man-made chemicals or additives. "This approval is a major milestone for the product as it means that Certified Organic producers are now free to use Big ole Bird," said Southland Organics President Mike Usry. "It allows the rapidly growing organic marketplace to use BoB in their operations." For more information about Big ole Bird, please visit our web page about the chicken supplement.
Southland Organics is a based in Athens, Georgia and is committed to providing products that provide natural solutions to natural problems. The company's chief aim to provide environmentally conscious products with the goal of providing mankind with a healthier environment and food supply.
To learn more about Southland Organics operations please visit SouthlandOrganics.com
For all press enquiries please contact
Mike Usry
President
800 608 3755 ext. 4
mike(at)SouthlandOrganics(dot)com