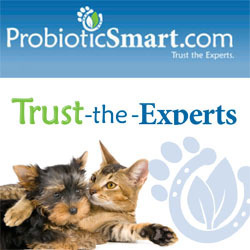 We started ProbioticSmart.com to forge a stronger connection with our customers and to offer a convenient way of finding trusted products and expert advice from the comfort of home
Knapp, WI (PRWEB) August 26, 2009
When animal lovers get together, they tell stories about their dogs, cats, and horses. They share advice. They recommend products they've learned to trust. That's the idea behind ProbioticSmart.com, the newest customer-focused division of BVPI, a leading researcher and manufacturer of animal-health nutrition products with nearly 20 years in the business.
"We started ProbioticSmart.com to forge a stronger connection with our customers and to offer a convenient way of finding trusted products and expert advice from the comfort of home," said Raj Lall, the CEO behind ProbioticSmart.com.
But the website provides a range of other services to animal lovers such as, probiotic news from around the world, educational pieces, and community. ProbioticSmart.com is also now bringing directly to consumers the option to buy Probios products, which are the world's most widely recognized, researched and used brand of DFM (direct-fed microbial).
"On our site, you can ask questions, share stories, and learn from one another," Lall said. "Our trusted experts will listen and share their knowledge of animal health and nutrition. We'll provide animal-health news from around the globe."
ProbioticSmart.com is an interactive site, and the behind-the-scenes experts will use visitors' input to help research, develop, and deliver improved health and nutrition solutions.
"Working together as a community, we can all take part in restoring and maintaining animal health," Lall said.
The company behind ProbioticSmart.com is made up of about 50 employees who focus on research, development, manufacture, and distribution of quality products. The small size means it's a flexible company that can respond to customer needs quickly.
"Our customers know we will listen to them and deliver products to meet their needs," Lall said.
The company has partnered with leaders in the industry, including Bomac Laboratories Ltd., the largest veterinary pharmaceutical company in New Zealand; and Chr. Hansen, the world's top producer of probiotic cultures and supplier to 90 percent of the world's yogurt industry and more than 80 percent of the world's cheese producers.
Through
ProbioticSmart.com, the company is able to provide a one-stop shop for pet food, health products, information, networking, and more - anywhere the Internet can be found. The interactive part of ProbioticSmart.com is important, Lall said, as he is actively seeking feedback from customers and site visitors.
"We need your feedback so that we can continue to define, refine, and develop superior products for many, many years," he said. "You may feel confident that we're a company that will listen to you, a company that develops the best products on the market and stands behind everything we do."
For further information:
Raj Lall
President, ProbioticSmart.com
###