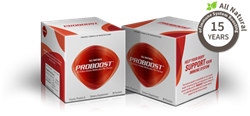 Information for those who face health issues.
Orange, California (PRWEB) September 25, 2013
ProBoost Direct's launch of the Immune System Education Center to place important information in the hands of those whose health issues are priorities.
The Education Center is currently made up of two sections. The first section The Human Immune System is a description of the immune system written by a doctor and designed for non-medical individuals to get a general understanding of how their body's natural processes is designed to fight disease, infection and prevent autoimmune response.
The second section is a review of disease states in which the human immune system plays a significant role. The list includes: Cancer, Rheumatoid Arthritis, Multiple Sclerosis, Chronic Fatigue Syndrome, Influenza, Systemic Fungal Infections, Multiple Autoimmune Syndrome, Fibromyalgia and Lyme Disease.
All of the diseases listed in the Education Center can be helped by the immune system when it works optimally. ProBoost Thymic Protein A is a natural supplement that supports the immune system's process and helps with optimal immune response. Thymic Protein A, ProBoost® has been called "the single immune system supplement available" by medical and scientific experts.
All of the content included in the ProBoost Direct Immune System Education Center was written for the general public and is straightforward and easy to understand.
ProBoostDirect.com is a leading distributor of ProBoost Thymic Protein A.
Statements made on this release and on the website have not been evaluated by the FDA.