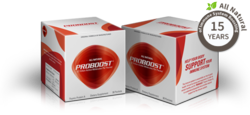 Orange, CA (PRWEB) February 27, 2013
ProBoost Thymic Protein A is a natural nutritional supplement that supports the immune system and helps optimize the immune response. ProBoostDriect.com was developed by Caliber Media Group of Orange, California using CaliberCommerce™, the company's premier ecommerce platform.
ProboostDirect.com is entirely focused on ProBoost Thymic Protein A. The site is slated to be a central repository for articles and information related to the use of the product as a supplement to support the body in the face of various diseases where immune support and inflammation reduction may be of benefit. The website offers direct pricing on ProBoost, rapid delivery with free shipping.
ProBoost Direct is 100% dedicated to ProBoost Thymic Protein A and the role of Thymic Protein A in strengthening the immune system.
Caliber Media Group is an internet marketing agency with a strong portfolio of clients with whom we've worked with for years, helping them reach their unique goals. From website design and development to enterprise-level ecommerce and email marketing, we produce results for our client partners.