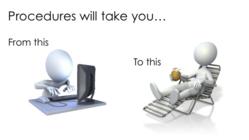 a business owner can take a leave of absence or even a holiday, stress free knowing their business can run profitably without them.
Sydney, Australia (PRWEB) April 30, 2012
As White explains: "When you look at a typical fast food restaurant, the key to their success is not necessarily that they use the best ingredients or that they have a world-renowned chef - it is their ability to relentlessly execute every process in the business with accuracy and consistency time after time resulting in very low error rates and highly satisfied customers." Small business owners need to take note of this and replicate these learnings.
"If business owners set up smarter procedures, or in many cases any procedures at all, just imagine how much better, more productive their business would be. says White. "Business owners would be able to spend more time thinking strategically about their business and staff would feel more supported and autonomous thus leading to considerable increases in productivity. Not to mention the fact that a business owner can take a leave of absence or even a holiday, stress free knowing their business can run profitably without them."
Procedures are one of the least sexy but most important factors in business growth. Charismatic business owners, great networking and well-thought out products can only carry a business so far, before the weight of running a business begins to hamper performance. ProcedureAssist, is a thorough, step-by-step guide to devising procedures in a small business including; how to create procedures, how to implement them, how to look after and include staff while doing so, and the different methods to actually recording procedures.
Many business owners find themselves conducting tasks that result in resentment of their own business, such as; photocopying, mail, responding to generic emails asking for information already available on their website or even explaining something to a staff member multiple times. The frustration they feel in these situations stems from the fact that they know they're wasting their time. Procedures are all about systematizing the tasks that eat up hours of a business owner's day where they could be meeting new clients or planning a new product or service.
According to the U.S. Small Business Administration (SBA), small enterprises account for 52 percent of all U.S. workers. "Through my years of experience, I know that the major issue holding small business owners back from big growth is getting through the day to day work, and finding the time to grow their vision," says White. "I created ProcedureAssist, to educate business owners about the benefits of streamlining their businesses, and to support them to free up their time with efficient systems. My passion is to help business owners be successful in their chosen business and ProcedureAssist is a first step to achieving this."
ProcedureAssist is made up of six modules that are delivered online through videos and PDF. The cost of the product is a one-time payment of $79 available from http://procedureassist.com/.