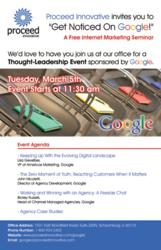 Schaumburg, IL (PRWEB) February 28, 2013
Proceed Innovative LLC and Google are partnering to provide an Internet Marketing seminar on how Google is evolving alongside this changing world, in the way it thinks about branding and marketing. Google will also explain the importance of partnering with an online professional, how you should approach working with an agency, and what resources the Google agency team is providing agencies to help their clients succeed.
The seminar will be on Tuesday, March 5th at 11:30am at the Proceed Innovative office at 1501 E. Woodfield Rd. Schaumburg, IL 60173, suite 200n.
Google will be broadcasting this invitation-only event to partner agencies, live from the Googleplex in Mountain View, California. Speakers include:

Lisa Gevelber, Google's VP for Americas Marketing, discussing how businesses like yours can grow in this digital age.
John Nicoletti, Director of Agency Development at Google
Bickey Russell, head of Channel Managed Agencies at Google.
This seminar provides ideas and strategies on how to grow your business by reaching more customers. Proceed Innovative will be providing case studies and examples on how to further expand these ideas.
Who should attend:

Business owners, directors, managers
Marketing directors and marketing teams
Anyone who owns, manages or works on a website
Food and beverages will be provided as well as some giveaways from Google to share.
Limited seats available, be sure to register online early or call Proceed Innovative at 800-933-2402.
About Proceed Innovative LLC
For over a decade Proceed Innovative, a Chicago Internet Marketing Agency, has eased the minds of clients by providing expert Internet Marketing and search engine optimization programs. Providing cost effective programs for your business, Proceed Innovative produces measurable data and statistics to optimize your online presence. Based in Schaumburg and Chicago Illinois, Proceed Innovative serves clients in Chicagoland as well as nationwide.