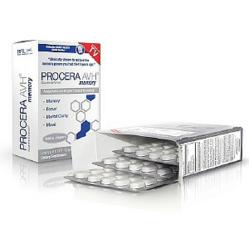 …Procera has really boosted my mental focus and memory and my ability to multi-task… it's not only helping me survive these stressful times, it's actually enabling me to thrive! - Eric L (45) Laguna Niguel, CA
Spokane, WA (PRWEB) November 20, 2012
Brain Research Labs, a national leader in brain health supplements has announced a sale that should be at the top of every shopper's list for Black Friday and Cyber Monday, considered to be the busiest shopping days of the year. Shoppers can fight their mental exhaustion and save money while doing it with the Procera AVH™ 3-Bottle 50% OFF Special through http://www.proceraavh.com
This 50% OFF deal is only going on Friday, November 23rd through Monday, November 26th.
Here is just one of the many testimonials we have received from satisfied customers of Procera AVH™:
"…Procera has really boosted my mental focus and memory and my ability to multi-task… it's not only helping me survive these stressful times, it's actually enabling me to thrive!" - Eric L (45) Laguna Niguel, CA
Since its creation, Procera AVH™ has become America's #1 selling cognitive enhancer. People who use Procera AVH™ include people from all walks of life, from retired professionals wanting to sharpen their thinking and mental quickness to students looking to improve their ability to learn and recall information faster.
Brain Research Labs is known not only for their highly rated and very successful Procera AVH™ brain supplement, but they also specialize in offering "clinically tested" science based products and services, e.g., fun online brain tests and exercises and tasty brain food snacks and meals, that serve the three primary needs of the brain: Neuro-Nutrition, Neuro-Stimulation, and Neuro-Relaxation.
Unlike traditional Black Friday special offers, this one isn't first come, first serve. To take advantage of this special opportunity, visit ProceraAVH.com and enter the coupon code "HALFOFF".
Don't miss this chance to boost your alertness and mental clarity, elevate your brainpower and mood, and feel less stressed from the holidays.
To learn more about Brain Research Labs and Procera AVH™, please visit BrainResearchLabs.com
Pricing and Availability:
The 50% OFF 3 Bottles of Procera AVH™ TV Special promotion will be available exclusively through http://www.proceraavh.com - Use coupon code "HALFOFF" to receive the discount. Offer valid November 23rd through November 26th only.
About Brain Research Labs
Brain Research Labs, LLC (BRL) is located in Spokane, WA. Created by Dr. Robert Heller, MD and Joshua Reynolds, BRL is dedicated to developing "clinically tested" science based products and services that serve the three primary needs of your brain:

Neuro-Nutrition - foods and supplements that enhance the brain's performance and protection
Neuro-Stimulation - mental activity and exercises that keep the brain young, fit and sharp
Neuro-Relaxation - tools and techniques that keep the brain calm, unstressed and healthy