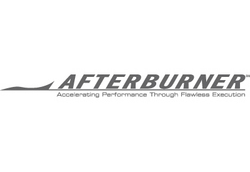 Inc. 500 List of America's Fastest Growing Companies
Atlanta, GA (PRWEB) July 14, 2009
Afterburner, an Atlanta-based team building, training, and consulting firm, announces its new 'three E' branding strategy for Empower, Equip, and Embed, business process improvement services ideal for corporate and military professionals who want to accelerate their careers. Afterburner, known internationally for its Flawless Execution model, delivers its powerful strategic quality management solutions through seminars, FLEX U, keynote speeches, and staffing assistance.
"Our new 'three E' branding strategy is a quick way for organizations to remember the many tools and solutions that Afterburner offers," said James D. Murphy, CEO and founder of Afterburner, Inc. "Whether companies choose the services of Equip and Empower or military professionals who are selected for corporate placement within Embed, decision makers now have a prime opportunity to focus on implementing more strategic quality management solutions within their own organizations."
Empower, the first of the three E's, includes motivational keynote speeches and the legendary "Afterburner Day" team-building experience. The next E, Equip, provides training, consulting, and software services to organizations around the world, as well as on-site business process improvement workshops and train-the-trainer style courses through the Flawless Execution University (FLEX U). Finally, Embed, a human capital placement and staffing service for military professionals transitioning to civilian careers, centers on certifying these candidates on business acumen and strategic quality management training through FLEX U. For more information on Afterburner's business process improvement programs, please visit http://www.afterburner.com.
About Afterburner, Inc.
Founded in 1996 by James D. Murphy, a U.S. Air Force fighter pilot, Afterburner, Inc.'s team of elite military professionals and military fighter pilots has trained over 1.5 million managers and executives in the simple, scalable, continuous improvement processes of Flawless Execution, a strategic quality management model developed by the company from both business experiences and strategic, tactical military execution. Through the program's Three E's - Empower, Equip, and Embed, Afterburner provides keynote speeches, its legendary "Afterburner Day" team-building experience, consulting, software services, and placing certified military professionals within its base. The company's client list includes over 23% of the U.S. Fortune 500, and has landed on Inc. Magazine's "Inc. 500 List of America's Fastest Growing Companies" twice and has been featured regularly in publications such as the Wall Street Journal and Newsweek. For more information, please visit http://www.afterburner.com.
# # #