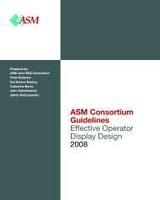 Plant incidents are estimated to cost the chemical and refining industries anywhere between 3-8 percent of revenue, and poor or ineffective operator displays can play a major role in those incidents
Phoenix, AZ (PRWEB) March 19, 2009
The Abnormal Situation Management® (ASM) Consortium today announced the group will now make select research available for purchase. Previously, this research was available only to members of the ASM Consortium, a group of 13 leading companies and universities that jointly research the root causes of abnormal situations and their effects on plant safety. The group examines a wide array of subjects, everything from the effects of organizational structures on plant operations to the maintenance of hardware and software platforms that support process safety in the control operations environment.
The first in a series of planned ASM Consortium publications, "Effective Operator Display Design" provides guidelines for improving plant operator displays. Written by and for the chemical and refining industries, the book is a compilation of real-world experiences from consortium members who have implemented human-machine interface (HMI) design best practices in their own plants. This knowledge has been organized as a set of structured best practices to guide design and deployment of operator interfaces that enable effective operator behaviors. Purchase "Effective Operator Display Design" here.
In the area of HMI design, the ASM Consortium guidelines are targeted toward operations managers, operators, process engineers, system design engineers and safety and reliability engineers charged with improving interaction between automation systems and the people controlling the processes.
"Plant incidents are estimated to cost the chemical and refining industries anywhere between 3-8 percent of revenue, and poor or ineffective operator displays can play a major role in those incidents," said Peggy Hewitt, ASM Consortium director. "Research shows that improving HMI displays using ASM guidelines improves the operator's ability to prevent, respond to and mitigate potentially hazardous incidents. 'Effective Operator Display Design' shares those insights to help keep plants running safely and efficiently."
For more information about purchasing this and future ASM Consortium research publications and for general information about the ASM Consortium, please visit http://www.asmconsortium.net.
ABOUT ASM CONSORTIUM
Founded in 1994, the Abnormal Situation Management Consortium seeks to create a new paradigm for the operation of complex industrial plants through research programs, development and deployment of new products and services, and information exchange that improve plant operations' ability to prevent and respond to abnormal situations. The ASM Consortium is comprised of leading industrial manufacturing companies and led by Honeywell. For more information about the ASM Consortium, visit http://www.asmconsortium.net.
ASM® and Abnormal Situation Management ® are registered trademarks of Honeywell International Inc.
This release contains "forward-looking statements" within the meaning of Section 21E of the Securities Exchange Act of 1934. All statements, other than statements of fact, that address activities, events or developments that we or our management intend, expect, project, believe or anticipate will or may occur in the future are forward-looking statements. Forward-looking statements are based on management's assumptions and assessments in light of past experience and trends, current conditions, expected future developments and other relevant factors. They are not guarantees of future performance, and actual results, developments and business decisions may differ from those envisaged by our forward-looking statements. Our forward-looking statements are also subject to risks and uncertainties, which can affect our performance in both the near- and long-term. We identify the principal risks and uncertainties that affect our performance in our Form 10-K and other filings with the Securities and Exchange Commission.
*All other marks are trademarks of their respective owners.
###