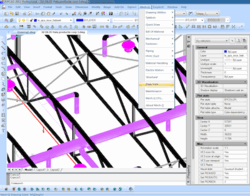 The new IntelliCAD 7.2 improvements will only add to AViCAD's list of unparalleled benefits
Bend, OR (PRWEB) August 15, 2012
A CAD Program for Engineers and Architects called AViCAD 2013 will be soon be released in late October this year. AViCAD will use a advanced CAD architecture based upon IntelliCAD 7.2. This is a new CAD engine which was developed earlier this year by the IntelliCAD Consortium (called the ITC).
The ITC was created in the late 1990's as an open source CAD (Computer Aided Design) technology based on an affordable alternative to AutoCAD®. IntelliCAD 7.2 is the latest version which includes many significant improvements.
AViCAD is also one of the first CAD Programs to use IntelliCAD 7.2. The 7.2 release is based on DWGdirect technology which will offer AViCAD users more power and performance.
Along with implementing the new IntelliCAD 7.2 engine, many other new AViCAD features will also be release, including a new overall look and feel of the interface like color styles and menu bars.
New Manager Tools are also planned for 2013 and include Dimensioning, Layers, Styles and Printing. Paper and layout settings can also to be saved to a configuration file (called a PC3 file).
In addition Multi-grip and Advanced Spline Editing have also been added to allow users even greater editing control over objects in their drawing.
Victor Abela, President of AViCAD.com comments "AViCAD 2013 is a much anticipated release for us. We are very excited to continue to offer one of the most affordable CAD Engineering Applications ever. The new IntelliCAD 7.2 improvements will only add to AViCAD's list of unparalleled benefits."
New 3D commands including "HELIX" , "LOFT" and "SWEEP" are also planned in the upcoming release.
Various file types such as STL and DAE (3D mesh modeling ) can be supported. CAD Underlays including PDF, DWF and DGN files can be imported into drawing backgrounds.
AViCAD is offering free upgrade for all purchases made after July 20th 2012. Both AViCAD Professional 2011 version and AViCAD Network licenses will be eligible after this time.
For more information, visit http://www.avicad.com or call 888-271-7121.
About AViCAD
AViCAD is owned by Cadavenue a division of ASVIC Software Inc. Their clients are involved in hydro power, process flow, food processing, aquaculture, petrochemical, biotechnology, treatment plants, heavy industry, marine, mining, military, pharmaceutical, pulp & paper, energy generation, snow making plants and various other related markets.
For more information about the company, latest news, and purchasing information, visit avicad.com on the Web at http://www.avicad.com/about.
Please contact Erik Zetterberg, 61149 South Hwy 97, #109 Bend, OR 97702 USA, Tel: (888) 271-7121 sales(at)avicad(dot)com, with questions about this press release.