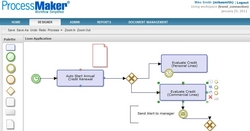 ProcessMaker stands apart from the competition thanks to its elegant and simple approach to workflow and business process management.
Brooklyn, NY (PRWEB) March 1, 2011
Colosa, Inc, the developer of ProcessMaker open source business process management (BPM) and workflow software, has just announced the release of the much anticipated Version 2.0 of its industry leading BPM platform. The new release is available for immediate download from the ProcessMaker website and is also available as a hosted solution in the ProcessMaker Cloud.
ProcessMaker 2.0 includes a number of innovative new features designed to improve functionality and enhance the user experience. Significant improvements have been made in five key areas: 1) the user inbox experience, 2) extensible plugin architecture, 3) BPMN and XPDL compatibility, 4) document management and storage, and 5) architecture and scalability. Additionally, Colosa has announced a series of new Enterprise Subscription plans designed for organizations looking for enterprise grade functionality, Add-ons, and support services for their ProcessMaker implementations. Here are some of the highlights of the version 2.0 release:
1. User Inbox - Redesigned to permit total skinability for OEM environments and also now has a drag and drop inbox designer to allow users to create custom data views directly inside their inboxes.
2. Extensible Plugin Architecture – Improved plugin architecture now allows users to deploy plugins with point and click simplicity to extend the functionality of ProcessMaker.
3. BPMN and XPDL – Users can now import XPDL process diagrams and also design process maps in a drag and drop BPMN process editor (Beta Release).
4. DMS – ProcessMaker now includes a fully functional DMS for document storage and document management (however, users can still opt to use an existing or preferred DMS).
5. Architecture and Scalability – ProcessMaker now runs on PHP 5.3 and improvements have been made for improved scalability so that there is no performance degradation in deployments with extra-large case loads.
"The ProcessMaker 2.0 release marks a major milestone," explained Colosa CEO Brian Reale. "Besides having one of the most elegant and simple to use interfaces in the industry, ProcessMaker's core is now ready to scale to meet the demands of even the largest implementations. 2 is the magic number for ProcessMaker in many respects: ProcessMaker has been downloaded over 200,000 times since 2008, we recently hit 2,000 active community members, and we are on track to more than double revenues in 2011."
About ProcessMaker
ProcessMaker workflow and business process management software allows public and private organizations to automate form intensive, approval-based processes across departments and systems such as human resources, finance, marketing and sales, and operations. Business users and subject matter experts with no programming experience can design and run workflows, continuously improving process effectiveness and efficiency and radically reducing paperwork. ProcessMaker software has been implemented in a variety of industries including finance, telecommunications, manufacturing, and state and local government.
ProcessMaker is developed by Colosa, Inc. Colosa enjoys a network of global partners in more than twenty countries and on five continents that can implement and support ProcessMaker open source BPM and workflow for organizations of all sizes.
###