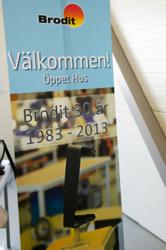 We are very happy to have seen the company grow over the past 30 years, and we are honored to be involved in this monumental celebration.
Madison, WI (PRWEB) June 28, 2013
ProClip USA, a distributor of vehicle specific mounts for mobile phones and other devices, celebrates the 30 year anniversary of Brodit, manufacturer of ProClip mounting solutions.
ProClip USA CEO and COO will join Brodit in Sweden on Saturday, June 29, 2013 to celebrate at Brodit headquarters. The celebration will include Brodit employees and other Brodit distributors from all around the world.
Bjorn Spilling, ProClip CEO, says "Our business could not exist without Brodit and their manufacturing expertise. We are very happy to have seen the company grow over the past 30 years, and we are honored to be involved in this monumental celebration."
Brodit was founded in Karlsborg, Sweden when Ebbe Johansson, a taxi driver at the time, bought his first mobile phone and needed a place to put it in his car. The first ProClip was born when Johansson bent a piece of plastic from his garage and attached it to the dashboard of his taxi.
When Johansson began constructing more mounting brackets to keep up with the demand from his friends and colleagues, he founded Brodit in 1983. With three decades of experience, Brodit now employs over 90 people and exports to 30 countries. They manufacture products for almost all vehicle models and mobile devices in the world.
In its three decades of business, Brodit has kept strong in a tough market. "We always start with the user's needs as we make new products," Ebbe Johansson, Brodit founder and CEO states as one explanation to the company's success. "It is important for us to have a good cooperation with our customers and to deliver high quality products."
Brodit and ProClip USA have had a long, successful relationship. Twice a year, a team of Brodit employees travels to the U.S. to work with ProClip and develop working prototypes for all car models sold in the U.S. The prototypes are then shipped to Brodit for final design. ProClip completes a final round of testing in each vehicle and once the mounts are approved, Brodit begins production.
About ProClip USA
ProClip USA, Inc. is the exclusive North American distributor of Brodit In-Vehicle Device Mounting Solutions and Accessories. The ProClip products are custom fit for virtually every vehicle model and handheld device available such as cell phones, smartphones, tablets, MP3 players, navigation systems, satellite radios, two-way radios and mobile computing. Their innovative, convenient, secure and easy-to-install mounting solutions provide a safer and more enjoyable driving experience.
ProClip USA company philosophy is to provide customers with a high quality product with a high level of customer service, the same level of quality they expect from the vehicles and devices they are already using.
To learn more, visit http://www.proclipusa.com or email customerservice(at)proclipusa(dot)com.