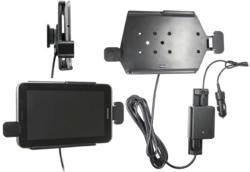 Some of our larger business customers use the Tab series tablets in their fleet and these new locking holders will add value and function to their daily tasks.
Madison, WI (PRWEB) April 18, 2013
ProClip USA, a distributor of vehicle-specific mounts and device-specific holders for electronic handheld devices, has recently announced the release of eight new Samsung Galaxy Tab 2 7.0 tablet holders.
ProClip already had some Tab 2 holders on their site, but they have now added a variety of their popular locking holder designs. Locking tablet holders allow for more security when mounting tablets and other mobile devices in a vehicle. ProClip offers two types of locking holders: key lock and spring lock.
Spring lock holders feature a spring lock block for added security. The Galaxy Tab 2 is removed from the holder by pulling on the spring lock block. Key lock holders provide a slightly higher level of security by requiring a key to unlock the tablet from the holder. These holders come with two keys.
In addition to locking holders, ProClip also released new Galaxy Tab 2 7.0 holders for use with OtterBox Defender cases. ProClip recognizes the popularity of OtterBox cases and works with the company to release many holders that are custom fit for phones and tablets that use an OtterBox case.
The newest Tab 2 holders come in different combinations of these features, including locking (key or spring), charging (cigarette plug adapter or hard wire installation) and case (OtterBox Defender or no case).
These tablet holders have all passed crash testing in combination with ProClip headrest mounts to the most stringent U.S. and E.U. automotive industry standards, including front and rear impact testing. All of these tablet holders can be attached to ProClip dashboard mounts, headrest mounts, pedestal mounts or any flat surface.
ProClip says these holders are popular with many customers, given the popularity of the Galaxy Tab 2, but they are especially common with business customers. Many companies use Galaxy Tabs to carry out day-to-day business, including in their fleet and service vehicles.
Don Rankin, COO of ProClip USA, says, "We're happy to offer a variety of new holders for the 7-inch Galaxy Tab 2. Some of our larger business customers use the Tab series tablets in their fleet and these new locking holders will add value and function to their daily tasks."
ProClip also says similar holders for the Galaxy Tab 2 10.1 will be coming soon.
About ProClip USA
ProClip USA, Inc. is the exclusive North American distributor of Brodit In-Vehicle Device Mounting Solutions and Accessories. The ProClip products are custom fit for virtually every vehicle model and handheld device available such as cellphones, smartphones, tablets, MP3 players, navigation systems, satellite radios, two-way radios and mobile computing. Their innovative, convenient, secure and easy-to-install mounting solutions provide a safer and more enjoyable driving experience.
ProClip USA company philosophy is to provide customers with a high quality product with a high level of customer service, the same level of quality they expect from the vehicles and devices they are already using. To learn more, visit http://www.proclipusa.com or email customerservice(at)proclipusa(dot)com.