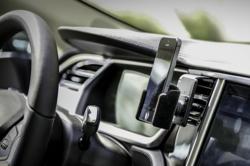 We're excited to have found a design that is such a good fit for the Tesla interior.
Madison, WI (PRWEB) June 21, 2013
ProClip USA, a distributor of vehicle specific mounts for mobile phones and other devices, announced two new dashboard mounting bases for the 2013 and 2014 Tesla S.
The Tesla S is a four-door electric sports sedan. Tesla Motors first started selling the Tesla S in the U.S. in June of 2012. It is currently one of the top selling plug-in electric cars in North America.
ProClip USA released two new Tesla S dashboard mounts. Both mounts are compatible with 2013 and 2014 models. The first mount is a ProClip Center Mount. This mount attaches to the center dashboard, just to the right of the steering wheel. ProClip says this is their most popular mounting position.
The other mount is a ProClip Angled Mount. This mounting base attaches just to the right of the center dashboard screen display. In this position, the mount is still in view of the driver, but is also within reach of the front-seat passenger.
These Tesla mounts are part of the two-part ProClip Mounting Solution, which consists of a device-specific holder and a vehicle-specific mounting base. ProClip device-specific holders are available for phones, tablets, GPS navigation and more. They are specific to device brand and model. ProClip mounting bases, like these mounts for the Tesla S, are specific to the vehicle make, model and year.
ProClip COO, Don Rankin, says, "As the Tesla has become more popular over the last year, we've had quite a few requests for these mounts. We're excited to have found a design that is such a good fit for the Tesla interior."
About ProClip USA
ProClip USA, Inc. is the exclusive North American distributor of Brodit In-Vehicle Device Mounting Solutions and Accessories. The ProClip products are custom fit for virtually every vehicle model and handheld device available such as cell phones, smartphones, tablets, MP3 players, navigation systems, satellite radios, two-way radios and mobile computing. Their innovative, convenient, secure and easy-to-install mounting solutions provide a safer and more enjoyable driving experience.
ProClip USA company philosophy is to provide customers with a high quality product with a high level of customer service, the same level of quality they expect from the vehicles and devices they are already using. To learn more, visit http://www.proclipusa.com or email customerservice(at)proclipusa(dot)com.