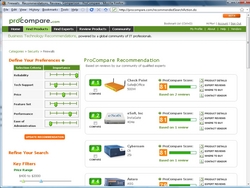 Small business IT solution providers are always looking for ways to find new customers and share their knowledge with others
New York, NY (PRWEB) September 4, 2008
ProCompare.com is a new online platform dedicated to helping small and medium size businesses make smart technology purchasing decisions and find IT professionals who can help them deploy such solutions.
ProCompare.com makes it free and easy for IT professionals, business owners and other technology shoppers to:

Get an instant, personalized recommendation based on product ratings by our community or qualified experts.
Search our community of IT professionals by their trust level, area of expertise, and/or location.
Build your online professional profile, demonstrate your expertise and help other members find the best products.
Network with other experts
Communicate with other members, create or join groups, and share professional knowledge.
The platform uses a unique, patent-pending technology to allow easy personalization of the recommendation based on the user's relative importance of key decision criteria, while ensuring reliability based on the relative trust level of the various experts who rated these criteria.
ProCompare.com's key promise is to save SMB IT Buyers valuable time when searching for hardware, software and IT services, without compromising on the quality of their decision.
Users seeking to find expert recommendations and reviews can easily access information by searching experts by their ProCompare trust level, area of expertise and/or location.
For IT professionals who are experienced with deploying and supporting SMB technology, ProCompare is a perfect platform for self-promotion, via exposure as a ProCompare trusted expert.
When IT professionals review products on ProCompare.com, they gain credibility as experts in their field. The trust score makes them the go-to authority for those looking for help. This typically results in new business opportunities with potential clients, partners and/or employers.
"Small business IT solution providers are always looking for ways to find new customers and share their knowledge with others" said Ramon Ray, Senior Editor of SmallBizTechnology.com. "By joining ProCompare IT experts have the best of both worlds. They can find customers who are looking for technology solutions and they can share their knowledge with these business customers through compares expert community."
About ProCompare.com LLC.
ProCompare was co-founded by Mor Sela, ex senior director at Comverse, Inc. and Ravi Srinivasan, who was a co-founder of OfficeTiger LLC. Phil Rose, who co-founded PC Magazine Lab, serves as ProCompare's content director. The company's advisory board include figures such Professor Izak Benbasat, Research Chair in IT Management at University of British Columbia; Raj Gajwani, former director at KnowledgeStorm (acquired by TechTarget); Ramon Ray, Senior Editor of SmallBizTechnology.com; and Shai Peretz, former VP operations at Shopping.com (acquired by eBay).
For more information, please visit http://www.procompare.com/About
###