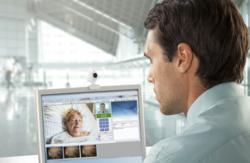 You have to look at a Long Term Care Facility as a business.
Westford, MA (PRWEB) June 13, 2013
ProConnections announces the release of "Telemedicine: Effective Strategies to Reduce Rehospitalization and Increase Patient Care Management." The white paper provides a timely look at the healthcare industry and future regulations affecting the long term care industry stemming from the Affordable Care Act.
Phil McNulty, COO and CFO of ProConnections states, "One of the greatest challenges skilled nursing facilities currently encounter is the escalating cost of treating patients while facing changes in reimbursement and new regulations. You have to look at a Long Term Care Facility as a business. If that business is not taking advantage of technology to improve the delivery of services to their customer, increase their revenue stream, manage their costs, and basically provide a competitive advantage, they are going to miss the boat. This white paper is filled with information that is essential for any LTC organization preparing for the imminent changes in healthcare!"
In this white paper, Long-Term Care (LTC) organizations will learn why telemedicine has emerged as the technology identified by government agencies, Accountable Care Organizations and hospitals to effectively address issues of cost, coordination of treatment, chronic disease management and rehospitalization. Additionally, the paper provides a helpful list of foundations as well as federal, state and local government agency funding sources and contact information, including telemedicine grant descriptions and applications.
To download the free white paper, go to http://www.proconnections.com/white-paper-reduce-hospitalization.cfm. To contact ProConnections, visit http://www.ProConnections.com or call (978) 692-2154.
About ProConnections
ProConnections' has a long history of successfully designing and manufacturing products for some of the world's largest medical device suppliers, having developed the core audio/visual technology that is used in applications that monitor Intensive Care Unit patients around the clock. With over 6,500 systems installed, ProConnections' team of engineers have the experience and expertise with digital imaging, data compression and embedded software development to provide custom design, development and manufacturing of innovative audio-video solutions for healthcare professionals and their patients. Visit http://www.proconnections.com or call 1-978-692-2154. Watch Fox News video Enhancing the Delivery of Healthcare.