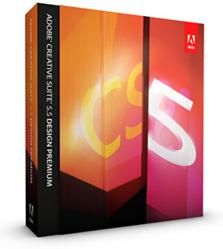 This brand new edition of Creative Suite 5.5 contains Photoshop CS5 Extended, Dreamweaver CS5.5, InDesign CS5.5, Flash Pro CS5.5, Illustrator CS5, and Acrobat X Pro, among others...
New York, NY (PRWEB) June 16, 2011
ProDesignTools.com, a leading site covering Adobe® and other design software, today announced two weeks remain in its June Sweepstakes — with a grand prize of the full commercial version of the Adobe CS5.5 Design Premium suite, a software collection valued at US$1,900.
This brand new package of Creative Suite® 5.5 includes the following products: Photoshop® CS5 Extended, Dreamweaver® CS5.5, InDesign® CS5.5, Illustrator® CS5, Flash® Professional CS5.5, Fireworks® CS5, Acrobat® X Pro, and more — see the complete list of applications.
This giveaway is open to residents of the USA, Canada, Europe, UK, South Africa, Australia and New Zealand — and there are three different ways to enter: via Facebook, via Twitter, or by simply submitting an email address. Each of these actions counts as a single entry into the drawing; so if a visitor completes all three, that's a total of three chances to win the CS5.5 suite.
ProDesignTools has given away thousands of dollars of new Adobe software the past year to many lucky winners, including CS5 Production Premium, Photoshop CS5, Lightroom® 3, Photoshop Elements 9, and Acrobat X Pro. For this second contest of 2011, submissions will be accepted until 11:59pm EDT on Thursday, June 30th, 2011.
Please see the main page for complete rules and to enter today: "Win a Free New Adobe CS5.5 Design Premium Suite!"
Deliver eye-catching designs for print, web, and devices such as tablets, e-readers, and smartphones using Adobe Creative Suite 5.5 Design Premium software, the ultimate toolkit for designing content that captives audiences in multiple media. Create striking images and graphics, design high-impact print and digital publications (including eBooks), construct standards-based HTML5/CSS3 websites, and craft interactive content that is displayed consistently across screens of all sizes, including the Apple iPad, Motorola XOOM, BlackBerry PlayBook, and more. Enjoy creative freedom, precise control, and high-quality production for print, web, and mobile design.
About ProDesignTools
ProDesignTools.com is a leading website focused on Adobe and other design software. Get the latest news and reviews, tips and tutorials, deals and discounts — and now through June 30th, enter to win a free and full Adobe CS5.5 Design Premium suite.
###