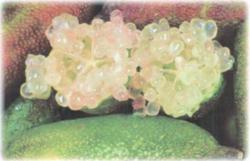 As chefs discover the culinary possibilities of finger limes, and the endless possibilities for inventively using them in their dishes, we have gotten more and more requests for these unique citrus varietals
San Francisco, CA (PRWEB) October 26, 2011
Although many Americans have never heard of finger limes, they are exploding in popularity with chefs and foodies, who prize their lemony-lime flavor and caviar-like texture. Originally discovered in the Australian bush by Aborigines, the citrus species has only been domesticated for 30 years, and is just now being successfully grown in California. VegiWorks, a San Francisco-based produce delivery service, says finger limes are at the height of their growing season right now, and are in great demand among the chefs it serves.
"As chefs discover the culinary possibilities of finger limes, and the endless possibilities for inventively using them in their dishes, we have gotten more and more requests for these unique citrus varietals," says Phillip Woo of VegiWorks.
Finger limes are cylindrical fruit that typically grow around 2 to 3 inches long. They come in a wider variety of colors than any other citrus species including green, yellow, red, brown and black. The pulp is bubble-shaped and juicy, reminding many people of fish roe, so they're often called "citrus caviar." The harvest season in California is from October through January.
The finger limes procured by VegiWorks for its San Francisco produce market and delivery service are raised by Shanley Farms at the Venice Hill Ranch in Visalia. Shanley Farms planted its first 600 finger lime trees five years ago, and is now harvesting the first batch of commercial quality fruit. Now more than 1,500 trees are planted on Shanley Farms' coastal and inland ranches, so the availability of finger limes will continue to grow in future years.
Finger limes pair well with seafood including sushi, oysters, and fish. Some of the chefs VegiWorks serves have gotten creative with finger limes by adding them to salads, cocktails, and desserts and using them as garnishes.
"There is no end to the possibilities," says grower Shanley Farms. "The explosive bursts of lemony lime flavor provide a texture like no other."
For more information about finger limes or any of VegiWorks' products or services, call (415) 658-9219, visit http://www.vegiworks.com, or find VegiWorks at the San Francisco Wholesale Produce Market, located at 1910 Jerrold Avenue in Bayview.
About VegiWorks, Inc.
VegiWorks, Inc. is a full-service, customer-oriented San Francisco based produce delivery service specializing in a complete line of fresh fruit and vegetables, including certified organic produce and pre-cut produce items. The company offers produce delivery in San Jose, San Francisco and everywhere in between. VegiWorks has been servicing many of the most highly-acclaimed restaurants and hotels in the Greater Bay Area since 1992.
# # #