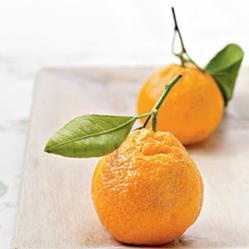 The Blue Jay label has a stem and leaf satsuma mandarin that is very attractive for displays and showcasing for restaurants and stores
San Francisco, CA (PRWEB) December 22, 2011
Winter is the time of year for citrus, and VegiWorks, a San Francisco-based produce delivery service, is excited to announce that harvest is in full swing for satsuma mandarin oranges, a citrus that looks similar to the more common Clementines, but is distinguished by its loose skin that makes peeling easy; near-total lack of seeds; and sweet, juicy flavor. VegiWorks is now featuring Blue Jay Satsuma Mandarins from Johnson Farms.
"Satsuma mandarins are a great snack because unlike many other oranges, they don't make a big mess. They're easy to peel, seedless, and can be easily segmented without squirting juice everywhere," says Bob Mametsuka of VegiWorks, "but they're very sweet and juicy."
Satsuma mandarins originated in Japan, and writings about the fruit go back 700 years. They are known as "unshu mikan" in Japan, and were named "satsuma" in 1878 by the wife of a minister to Japan when her husband shipped the trees to the US from the province of Satsuma (now Kagoshima Prefecture). They are commonly grown in subtropical climates including Japan, China, Spain, South Africa, parts of South America, and here in the US in Florida and California.
The Blue Jay Satsuma Mandarins are grown in California's Central Valley by Johnson Farms, a premier citrus grower and shipper known for its dedication to consumer satisfaction and land stewardship. The fruits are carefully packed in attractive packaging.
"The Blue Jay label has a stem and leaf satsuma mandarin that is very attractive for displays and showcasing for restaurants and stores," says Mametsuka. "Many of the Asian communities prefer the stem and leaf for symbolic reasons."
For more information about satsuma mandarins, or any of VegiWorks' products or services, call (415) 658-9219, visit http://www.vegiworks.com, or find VegiWorks at the San Francisco Wholesale Produce Market, located at 1910 Jerrold Avenue in Bayview.
About VegiWorks, Inc.
VegiWorks, Inc. is a full-service, customer-oriented San Francisco-based produce delivery service specializing in a complete line of fresh fruit and vegetables, including certified organic produce and pre-cut produce items. The company offers produce delivery in San Jose, San Francisco and everywhere in between. VegiWorks has been servicing many of the most highly-acclaimed restaurants and hotels in the Greater Bay Area since 1992.
###