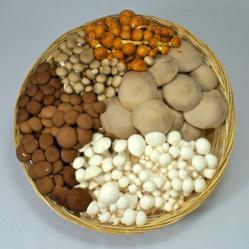 These specialty mushrooms add a rich, earthy flavor to any meal
San Francisco, CA (PRWEB) February 02, 2012
VegiWorks, a conventional and organic produce delivery service in San Francisco, is currently featuring specialty mushrooms from Gourmet Mushrooms, Inc. Each 6 lb. "Chef Mix" flat is filled with several varieties of specialty mushrooms, including Forest Nameko, Alba Clamshell, Brown Clamshell, Trumpet Royale, and Velvet Pioppini. The mushrooms are organically grown in Sebastopol, CA and harvested 365 days a year.
"These specialty mushrooms add a rich, earthy flavor to any meal," says Bob Mametsuka of VegiWorks.
Mushrooms contain nutrients not available in any plants, and have been used in food and medicine for thousands of years. Since 1977, Gourmet Mushrooms, Inc. has been cultivating exotic mushrooms in Sonoma County. The company is considered a pioneer in the field, and has trademarked several new varieties of fungi.
The specialty varieties included in the mix of gourmet mushrooms include:
Forest Nameko: These chestnut-colored mushrooms have a rich, lightly fruity flavor. Their naturally waxy caps are both silky and crunchy.
Alba Clamshell: These pure, creamy white mushrooms have a slightly nutty, shellfish flavor with notes of minerals. Their crunchy texture holds well through cooking, and they are excellent with stir-fried vegetables and seafood.
Brown Clamshell: This variety has a marbled, mocha brown cap and is a bit milder than the Alba Clamshell. The earthy forest flavor makes these mushrooms delicious grilled or in a cream of mushroom soup.
Trumpet Royale: The firm, meaty texture of these mushrooms is reminiscent of porcinis. These mushrooms have a mild forest flavor, and are also great for grilling or in soup.
Velvet Pioppini: These chocolate-capped mushrooms with creamy stems are perfect with Italian pasta dishes, grilled meats, or in a red wine sauce.
For more information about specialty mushrooms grown by Gourmet Mushrooms, Inc., or for information about any of VegiWorks' products or services, call (415) 658-9219, visit http://www.vegiworks.com, or find VegiWorks at the San Francisco Wholesale Produce Market, located at 1910 Jerrold Avenue in Bayview.
About VegiWorks, Inc.
VegiWorks, Inc. is a full-service, customer-oriented San Francisco-based produce delivery service specializing in a complete line of fresh fruit and vegetables, including certified organic produce and pre-cut produce items. The company offers produce delivery in San Jose, San Francisco and everywhere in between. VegiWorks has been servicing many of the most highly-acclaimed restaurants and hotels in the Greater Bay Area since 1992.
###