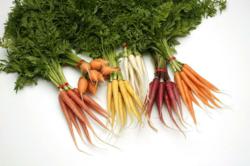 Root vegetables are some of the most versatile produce items out there. Our chefs use them in everything from soups and salads to side dishes and entrees
San Francisco, CA (PRWEB) March 08, 2012
VegiWorks has unearthed a treasure trove of baby root vegetables from Babé Farms, a baby vegetable specialist in the fertile Santa Maria Valley in Central California. The conventional and organic produce delivery service in San Francisco is currently highlighting zesty celeriac (celery root), fragrant parsley root, and a kaleidoscopic assortment of baby carrots.
"Root vegetables are some of the most versatile produce items out there. Our chefs use them in everything from soups and salads to side dishes and entrees," says Bob Mametsuka of VegiWorks. "The possibilities are limitless."
Celeriac, a.k.a. celery root, has a bulbous, gnarled look when it's pulled out of the ground, but once it's peeled, an aromatic ivory interior is exposed. The root can be used in many ways; Babé Farms recommends slicing celeriac as a raw garnish, mashing it with or without potatoes, adding it to soups, or serving it roasted, braised or fried.
Parsley root has a pale white appearance similar to a parsnip, but with a nuttier, sweeter flavor. It makes a wonderful addition to soups and stews, and can be pureed or roasted alone or with a medley of other root vegetables.
VegiWorks loves the colorful assortment of baby carrots grown by Babé Farms. Six unique varieties are available including red, purple, orange, round (also known as French or Thumbelina), white and yellow. They are beautiful sliced in a salad or sautéed, roasted or steamed and served as a side dish.
Babé Farms has been growing baby vegetables since 1986. The family-style farm is still owned and operated by one of the original partners, Judy Lundberg, and her son Jeff. Judy has been named Santa Barbara County Farmer of the Year, and the farm was featured at Sunset Magazine's Savor the Central Coast event.
For more information about root vegetables grown by Babé Farms, or for information about any of VegiWorks' products or services, call (415) 658-9219, visit http://www.vegiworks.com, or find VegiWorks at the San Francisco Wholesale Produce Market, located at 1910 Jerrold Avenue in Bayview.
About VegiWorks, Inc.
VegiWorks, Inc. is a full-service, customer-oriented San Francisco-based produce delivery service specializing in a complete line of fresh fruit and vegetables, including certified organic produce and pre-cut produce items. The company offers produce delivery in San Jose, San Francisco and everywhere in between. VegiWorks has been servicing many of the most highly-acclaimed restaurants and hotels in the Greater Bay Area since 1992.