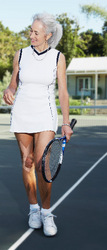 The new SpiderTech Gentle truly is a breakthrough product
(PRWEB) April 21, 2010
SpiderTech is pleased to announce a new breakthrough product for Kinesiology Tape Therapy – SpiderTech Gentle. Developed by Nitto Denko, the original manufacturers of Kinesiology Tape products, SpiderTech Gentle was created for patients with sensitive skin.
SpiderTech Gentle products are scientifically formulated to minimize skin irritation through the use of Nitto Denko's new Stratagel adhesive, reducing redness and itching typical to patients with low collagen, fragile, or sensitive skin. Stratagel combines a lower level of adhesive force with a pliability that allows the adhesive to conform to the micro-contours of human skin, generating a gentle adhesion that fixes the tape firmly, but reduces stress on the skin during wear and at removal.
"The new SpiderTech Gentle truly is a breakthrough product," states Dr. Kevin Jardine, SpiderTech CMO. "Nitto Denko's StrataGeltm adhesive has allowed us to use SpiderTech Gentle on selected professional athletes with skin sensitivities, demonstrating its ability to adhere in extreme applications, as well as use it in-clinic on our patents with markedly lower levels of collagen to great success."
SpiderTech Gentle is water resistant and is designed to remain on the skin for up to 3 days or more. Excellent for use with patients that exhibit skin irritation with standard Kinesiology tape products, SpiderTech Gentle allows for continuous application on patients with chronic conditions.
SpiderTech Gentle is available in the complete line of SpiderTech pre-cut, ready –to-apply products, and SpiderTape rolls, making it the perfect addition to Geriatric and Pediatric-focused practices and facilities. The entire range of SpiderTech Gentle Pre-Cuts is now available for order. For more information on the
SpiderTech Gentle products, visit http://www.nucapmedical.com/products-gentle.html, or contact your SpiderTech Distribution Partner representative
For more information on SpiderTech, Contact SpiderTech Customer Service, customerservice(at)spidertech(dot)com
About SpiderTech
SpiderTech is the developer and world leader of , pre-cut and ready to apply kinesiology taping applications in a single piece. SpiderTech is committed to excellence and innovation in the management of pain and myofascial dysfunction through the use of specialized elastic tape applications. SpiderTech's focus is on the development and manufacturing of products and therapy protocols that meet the demands of today's health care clinician and therapist.
# # #