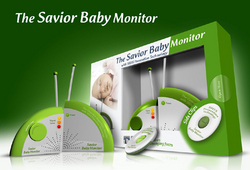 Houston, TX (PRWEB) September 4, 2009
After serving four years active duty overseas with the US Air Force, Joshua Vaught is now serving to protect little lives at home with the development of SIDS prevention technology.
Sudden Infant Death Syndrome, also known as SIDS, is the unexpected death of a child under the age of one, where an autopsy cannot find an explainable cause of death. It is responsible for over 2,500 infant deaths in the U.S. each year. While learning about the statistics in one of his early childhood education classes at Pierce College in Puyallup, Washington, Vaught was determined to create a product capable of drastically decreasing this number.
Although causes of SIDS are not completely understood, The American Academy of Pediatrics recommends that a baby always be put to sleep on his back. Vaught's Savior Baby Monitor was created to alert parents of a sleeping baby's movement into a potentially harmful position possible of producing SIDS.
Vaught is currently working with Idea Buyer LLC, a new product development company, in preparation for the product's launch, which is scheduled for June 2010. Idea Buyer LLC is currently sourcing purchase orders from retailers and interest from the general public. For more information regarding this product, please contact Eric Corl.
###