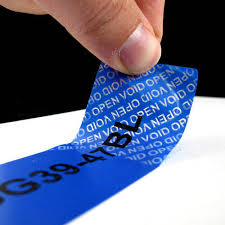 Tamper evident and tamper proof labels have been important tools in the war against product left
Fairfield, NJ (PRWEB) May 09, 2013
Lizard Label, the custom label manufacturing company, has expanded its product label offerings to include tamper-evident labels.
Tamper evident and tamper proof labels have been important tools in the war against product left. These labels provide product information and validate the product's authenticity. Companies using these labels can use these labels to verify that merchandise has not been tampered with, and is opened by the receiver or buyer only. It also offers the buyer an extra measure of confidence that the product is intact and indeed the product that they have paid for.
By adding tamper evident labels to its list of capabilities, Lizard Label continues to expand in its efforts to best serve the needs of its customers for great service and exceptional custom product labels.
About Lizard Label
Headquartered in Fairfield, NJ, Lizard Label is a full scale, multi-press label manufacturer specializing in pressure sensitive custom labels and custom stickers. For more information please visit: http://www.lizardlabel.com