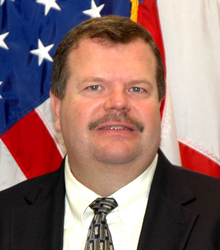 Mr. Dabay brings with him a wealth of experience in both corrections and technology
Altoona, PA (Vocus) July 28, 2009
Due to continued growth, Digital Solutions / Inmate Telephone, Inc. has added a new Product Specialist to its expanding team. Joe Dabay comes to DSI / ITI from Prince George's County, Maryland Department of Corrections (PGC DOC) where he served as the Information Services Manager. While working for the Prince George's County DOC, Dabay lead the initiative to establish the PGC DOC Information Services Unit and was instrumental in implementing new technology for the department including biometrics, Interactive Voice Response (IVR) systems and digital mug shots.
Prior to working with the Prince George's County DOC, Dabay worked for several major healthcare organizations where he provided high-level system support and implementation services in mission critical environments. Dabay served as a Senior Consultant at Georgetown University Medical Center, where he implemented a new clinical system, successfully established a Help Desk to support hardware, software and applications, as well as providing network performance and security measurements in an environment with over 4000 desktop systems and 20 servers.
"Mr. Dabay brings with him a wealth of experience in both corrections and technology," said Joe Merilli, Director of Human Resources for DSI / ITI. "Coming directly from a large correctional facility and knowing what can be done with technology to improve the way a facility functions on a daily basis is an incredibly valuable asset to our organization and our customers. We're thrilled that Mr. Dabay has joined our team."
Those interested in learning more about Digital Solutions industry leading software package or inmate telephone services may visit Digital Solutions / Inmate Telephone, Inc. at http://www.dsiiti.com, or contact DSI / ITI by calling (888) 222-3081.
About Digital Solutions / Inmate Telephone, Inc.
Established in 1984 in Altoona, Pennsylvania, Digital Solutions Incorporated (DSI) is a privately held technology company that specializes in automating corrections agencies. Its sister company, Inmate Telephone Incorporated (ITI), was founded in 1994 to create and maintain state-of-the-art inmate phone systems for correctional facilities.
More than twenty years of successful implementations in over four hundred agencies has enabled DSI / ITI to become the leading provider of software solutions to the corrections industry. The company attributes much of their success to the practice of involving users in the design phases of the application development process - input that is critical in enabling the company to continually improve, while building a sense of ownership among the communities they serve.
For more information, please visit http://www.dsiiti.com
Contact:
Thomas Brence, Director of Marketing
Digital Solutions / Inmate Telephone, Inc.
ph. 888.222.3081
fx. 814.949.3307
http://www.dsiiti.com
###