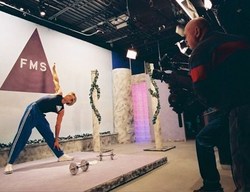 JHD's expertise in image videos for companies and organizations to promote their products or positions is being made available to New York, Connecticut and New Jersey organizations at discounted rates during the summer
Deer Park, NY (Vocus) May 13, 2010
Long Island filmmaker and videographer Hugh Daly of JHD Productions, the Deer Park, New York-based video and film company, announced "The JHD Productions Summer 2010 Video Promotion for Tri-State Organizations" as a service to New York, New Jersey and Connecticut-based companies hard hit by the economic downturn.
"Video plays a major role in giving companies a competitive edge in marketing, improved training and brand building and JHD Productions provides," Daly said.
"JHD's expertise in image videos for companies and organizations to promote their products or positions is being made available to New York, Connecticut and New Jersey organizations at discounted rates during the summer," he added.
"Whether for websites, trade shows, TV commercials or product and image presentations, organizations have to present their stories professionally to grow," added Daly, a Director of Photography who founded JHD Productions in Deer Park.
Daly added, "JHD Productions' studio, stage and sets, high-tech programs, modern green-screen studio and state-of-the-art cameras, lighting, equipment and editing suite, gives JHD turn-key capability to serve area organizations with unsurpassed ability in video production."
Hugh Daly, in partnership with public relations executive Brian Dobson of Dobson Communications, the Ridgefield, Connecticut public relations firm online at http://www.DobsonPR.com, also formed JHD-Dobson Video to focus on full service marketing support.
"JHD-Dobson Video expands JHD Productions' services in image development and brand building. Dobson is a brand building and issues management public relations expert," said Daly.
Dobson added, "Video is a major marketing tool for any organization, but it must be written, produced and presented properly to communicate directly, effectively and with excellent graphics and images. This powerful ability is available at Long Island at JHD Productions for companies in the tri-state area."
JHD Productions, online at http://www.JHDProductionsLtd.com, is located in Deer Park, Long Island, New York. For information contact JHD-Dobson Video, Barbara_Green (at) DobsonPR (dot) com, or call 203-894-9240.
###