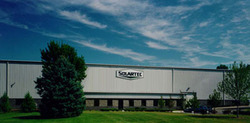 We wanted to take a moment to thank everyone for the years of support
Salem, OH (PRWEB) October 14, 2008
As the seasons change and leaves turn, Solartec Inc. commercial metal forming company celebrates 35 years of industrial evolution with a nod to customers and employees.
According to President John Sekely, Solartec has matured since its humble beginning in 1973, and has grown to supply a wider customer base with more diverse goods. The manufacturer now specializes in a variety of commercial metal forming applications, from in-house design and simulation, through build and tryout, to production and maintenance.
"We wanted to take a moment to thank everyone for the years of support," President John Sekely said. "Without the direct support of our customers, vendors, employees and colleagues, we would not have gotten to where we are today."
As the name implies, Solartec got its start developing and manufacturing solar panels. Over the next decade, the company diversified into specialty foam products for the aerospace industries and fixture design and construction for the automotive industry. By the 1990s, die design, construction and tryout services were added to Solartec's product offerings.
A staple of the 2000s was a market diversification that allowed Solartec to enter into other markets beyond tool and die construction and sheet metal stamping for the automotive industry. The company has continued to evolve to supply a wider range of industries with more diverse products and services, such as high speed precision metal stamping, progressive and transfer die construction, simulation, formability and finite element analysis.
"One of our greatest corporate achievements came recently in 2004 with the successful installation of our new high-speed production stamping lines," Sekely said. "The start-up of the lines has again given Solartec the chance to diversify its offerings in the years to come."
In the years since its inception, Solartec expanded into its current 65,000-square-foot facility. The staff built 35 years of experience and knowledge using innovative tools and techniques to help customers achieve ever changing goals and expectations within their various markets.
"Utilizing the best software for design and construction has allowed us to provide tremendous savings to our customers and accurate design specifications to our vendors," explains General Manager Mark Jewell. "Because we can handle die sizes up to 240" x 108" and tonnages up to 2,000 tons, our customers now have access to state-of-the-art high-speed stamping equipment for large progressive dies running at up to 44 spm. Furthermore, the addition of our large 6.1 meter transfer press provides our customers with an industry-leading 34 spm transfer capability."
Sekely gives credit for Solartec's success, in large part, to the company's loyal customers: "Thank you again for everything and we are looking forward to many more years of operation while continuing to deliver quality products and services."
For more information about production stamping, die construction, machining and other engineering services for the automotive, lawn and garden, appliance, HVAC and aerospace industries offered by Solartec Inc., visit Solartec.com.
About Solartec Inc.:
Starting with in-house design and simulation, through build and tryout, to production and maintenance, Solartec Inc. fulfills a variety of stamping needs. Salem, Ohio-based Solartec provides tool and die design, construction and tryout services, precision metal stamping and other products and services for the automotive, lawn and garden, appliance, and aerospace industries.
###