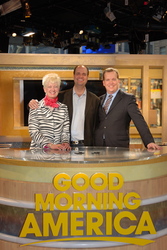 We recognize that VFM is the leader in delivering rich media content to the web and we are proud to be associated with such an outstanding organization.
New York, NY (PRWEB) September 9, 2008
Productions NY, founded by the former studio head of ABC's Good Morning America & Entertainment Tonight, is pleased to announce a new strategic alliance with VFM Interactive, the leading online video and rich media producer and distributor for the hotel and travel industry.
The Emmy Award winning video producers from Productions NY will now create rich media hotel & resort content for distribution through on-line sites such as Travelocity, Priceline, Orbitz and thousands of other leading sites around the world via an exclusive distribution agreement with VFM Interactive. By combining the sophisticated equipment, writing staff, lighting designers and cinematographers responsible for producing of some of your favorite television shows with VFM's comprehensive range of distribution solutions, the two companies will set a new standard for what is seen as acceptable in the realm of hotel videos and video virtual tours. It is now possible for hotels to have affordable video solutions created by the same staff that shoot and edit programs on The Travel Channel, The Food Network, ABC & ESPN.
From 1999 to 2006 Tim Hayes, President of Productions NY, oversaw all daily studio operations for Good Morning America, Nightline, 20/20 plus more than a dozen other ABC & ESPN programs before starting Productions NY in 2006. Today they provide much of the staff working behind the camera on some of your favorite TV shows. Productions NY also operates their own studios, which served as the broadcast home to the #1 and #2 syndicated news entertainment shows in the country; Entertainment Tonight and The Insider since 2007.
"Many of the top people in television work on rotating schedules. They might be on the set of Law & Order or Entertainment Tonight for three weeks and then have one week off from the show. It is during that week that we send them out on special assignment to create hotel videos and our new video virtual tours. Multiply that by 50 and VFM Interactive suddenly has the biggest and the best video production staff in the world at their disposal," said Tim Hayes. "We are masters at the art of storytelling. We have a history of working with the top shows on TV so working with VFM interactive makes perfect sense to us," continued Tim. "We recognize that VFM is the leader in delivering rich media content to the web and we are proud to be associated with such an outstanding organization."
VFM Interactive believes that of the five senses, sight and sound account for 85% of the information we take in. This shows how much power can be harnessed when a hotel invests in the right professional video. And every good story needs to be shared. The distribution network of VFM Interactive ensures that the story is told at the point of sale to a broad audience of travel consumers. This combination of talent should be a tool in every marketer's toolbox to drive sales.
About Productions NY Inc.
Productions NY Ltd. is the premier supplier of independent writers, producers and production staff for many iconic television shows including ABC's Good Morning America, ESPN's NBA Shootaround, Entertainment Tonight, The Insider plus numerous programs and special events for The Food Network and The Travel Channel. Our Emmy Award winning camera operators, lighting designers and film editors are now at the forefront of creating new and engaging broadcast quality video content for the web and in-room resort TV. For more information visit http://www.ProductionsNewYork.com.
About VFM Interactive
VFM Interactive is the leading end-to-end provider of online media production and distribution solutions for the hotel and travel industry. VFM helps hotel and travel companies enhance their online marketing through rich visual content including still images, videos, 360º virtual tours and Flash presentation. VFM's Vscape® platform allows hotels to manage and distribute their rich media content on the industry's largest and fastest-growing distribution network of more than 25,000 websites where consumers most often research and purchase travel products. This network includes online travel agencies, travel suppliers, search portals and Global Distribution Systems such as Travelocity, Orbitz, Priceline, TripAdvisor, American Airlines, Yahoo!, SideStep, Sabre Travel Network, Galileo and Worldspan. VFM's Vscape media distribution platform is utilized by more than 35,000 hotels from dozens of major hotel chains and resorts from brands and management companies including Best Western, Choice, Crowne Plaza, Hilton, Holiday Inn, Interstate, La Quinta, Marriott, Outrigger, Radisson, Regent, Sheraton, Sol Meliá, W, Westin and Wyndham. For more information, visit http://www.vfmii.com.
ORGANIZATION
Productions NY
Productions New York Ltd
http://www.ProductionsNY.com
1120 Avenue of the Americas, 4th Floor
New York, NY 10036
Phone: (212) 496-7565
Fax: (646) 356-6904
Email: TimHayes@ProductionsNY.com
###