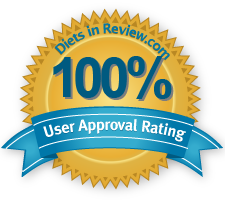 I have lost weight already! Great support for a diet plan.
Scarsdale, NY (PRWEB) August 07, 2012
Not more than a few weeks from launching their product, HungerShield was reviewed by DietsInReview.com, the leading diet review site on the web, a leading provider of diet reviews, advice, resources, and tips. The DietsInReview staff looked at the product claims, ingredients and background with an eye for consumer acceptance, product quality and effectiveness.
"HungerShield is a powdered drink mix that contains a unique blend of fiber, protein and probiotics to help curb appetite. It contains natural ingredients and no artificial sweeteners, colors or flavors," cites the background. "This beverage mix was developed by a team of four registered dietitians and nutritionists for the purpose of appetite control as part of a comprehensive weight loss plan."
DietsInReview shared product pros and cons, and opened the review up to their web audience to weigh in themselves. The result to date: 100% thumbs up.
HungerShield was applauded in the review for being low-calorie, portable, gluten-free and developed by dietitians. HungerShield's key differentiator was also called out as it can be used in conjunction with any weight loss program.
In addition to the benefits described in the review, the HungerShield team feels that the flexibility of the lemon-lime flavor is an important part of its success. HungerShield co-founder and registered dietitian Dafna Chazin shares, "Flavor acceptance is all about personal preference. The key is finding what is most enjoyable in order to reap the benefits. Many simply mix with enough cold water (at least 16 oz.) for a light, lemony flavor. Some add a small amount of Splenda for a low calorie, fiber and protein-packed lemonade. Others mix with their favorite diet iced tea for a delicious Arnold Palmer. We receive feedback everyday about new ways it is being enjoyed, as well as the positive results!"
Chazin's comments are consistent with HungerShield user Lisa who shared the following mixing tip as user feedback within the review: "I love HungerShield. I mix it with iced tea, water and diet 7-up. It has no aftertaste and gives a great lemon flavor."
To help, the Hungershield team has posted on their website (http://www.hungershield.com/) a range of product tips and tools, including mixing tips and innovative recipe ideas.
In summary, DietsInReview.com's Registered Dietitian, Mary Hartley, RD, confirmed "there is no reason not to take HungerShield if between-meal hunger is a problem and the probiotics are a plus."
The review was supported by HungerShield customer Jeff Seltzer. "After years of drinking 2 - 3 cans of soda a day, it has helped me to discontinue soda use altogether. I have not had a single drop of soda in over a month," states Seltzer. "Additionally, it has helped me to control my hunger at lunch time, making it easier to have smaller lunches."
Other user feedback focused on HungerShield's ability to help combat other barriers to success, such as eating out or night-time snacks. As commented by another user, "[I] tried this for several weeks and it has really decreased my appetite, especially for night snacks! [I] find it fresh tasting (be sure to mix well) and on top of that it is good for me. I have lost weight already! Great support for a diet plan."
About HungerShield
HungerShield is an innovative appetite control drink mix created by four registered dietitians, Elizabeth DeRobertis MS, RD, CDN, CDE, Heather Zeitz RD, CDN, Elizabeth Pecoraro MS, RD, CDN and Dafna Chazin MS, RD, CDN. HungerShield is the only product currently on the market that contains natural ingredients, has high quality sources of fiber and protein as well as probiotics that promote digestive health. It is also the only product in this category that was created by healthcare professionals and can work with any diet plan on the market. For more information, visit http://www.hungershield.com. You can follow HungerShield on Twitter @HungerShield and on Facebook.
About Diets in Review
DietsInReview.com is a leading diet and weight loss site, featuring more than 2,300 diet and weight loss program and book reviews. Additionally, the health news blog is updated daily by a team of fitness and nutrition experts with need-to-know news and information about weight loss and healthy living. You'll also find a database of free healthy recipes that suit a variety of dietary needs, and an interactive and free community, MyDIR. With a robust team of experts, like Tracey Mallett for fitness and Mary Hartley, RD for nutrition, DietsInReview.com covers an array of topics to keep their readers fit and informed in a realistic way. You can follow Diets in Review on Twitter @DietsInReview and on Facebook.