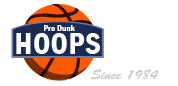 "This is the future. This is where the value is and this is where we want to be."
(PRWEB) January 24, 2013
Many companies like Pro Dunk Hoops are taking cues from industry leaders such as Amazon by introducing innovative business models that leverage the internet for an efficiency brick and mortar stores cannot compete with.
Pro Dunk Hoops accomplished this by claiming not one but two links in the chain. In doing this they managed to claim savings of 25 to 35 percent over traditional business models that rely on local stores and NACs (national assembly company).
A trial run of this business model was launched two years ago and has proven to be extremely successful. Because of the tremendous success seen in pilot markets, Pro Dunk Hoops has decided to invest in a nation-wide roll-out just in time for their busy season which starts in April and culminates in June.
Pro Dunk Hoops forged relationships with top assembly professionals at locations throughout the United States this winter. The company leveraged thousands of data points it has collected over more than 10 years to create an industry leading list of basketball goal assembly professionals in 57 markets nationwide. Pro Dunk Hoops has also been collecting customer reviews on these installers for over 2 years, effectively employing the "crowd" to help customers make an educated decision.
Keith Tate, founder and owner of Pro Dunk Hoops stated, "This is the future. I believe you'll see manufacturers take the lead in e-commerce cutting out even the best re-sellers local and internet based in the not so distant future. There is little value in curating the web like Amazon does and there is declining value in being able to touch and feel a product at a local store as web technologies progress. This only leaves companies that are actually creating something. This is where the value is and this is where we want to be."
For further information about Pro Dunk Hoops, call 1-888-600-8545 or visit http://www.produnkhoops.com.
Strategic Advisors for the Internet (SA4i) is an online internet presence management group representing a wide variety of businesses including Pro Dunk Hoops. For more information, call 281-661-8900 or visit the SA4i website at http://www.sa4i.com.