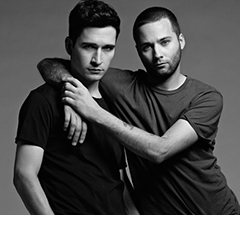 (PRWEB) May 28, 2011
The Proenza Schouler Spring/Summer 2011 Runway collection has just hit the sales floor at upscale fashion retailer Kirna Zabete. Always a favorite of the Kirna Zabete buying team at New York Fashion Week, Proenza Schouler designers Jack McCollough and Lazaro Hernandez presented a directional collection combining feminine details, retro references and sharp silhouettes.
The Proenza Schouler collection is available from Kirna Zabete here: http://www.kirnazabete.com/designers/proenza-schouler
About Proenza Schouler:
Jack McCollough and Lazaro Hernandez first met in 1998 as students at Parsons School of Design in New York. In their senior year as fashion majors, Jack and Lazaro teamed up to design their senior collection. The joint effort exceeded all expectations and inspired them to launch their own independent label, Proenza Schouler. Today Proenza Schouler is one of the most anticipated collections of New York Fashion Week, winner of the 2007 CFDA Womenswear Designer of the Year and a favorite of celebrities including Cate Blanchett, Julianne Moore and Chloe Sevigny.
About Kirna Zabete:
Kirna Zabete, retail fashion mecca at 96 Greene Street in New York City's SoHo, opened its doors August 1999. This lifestyle store was a new retail concept casually blending luxury items in every category: clothing, jewelry, home, baby, pet and candy. Internationally known for featuring the best "edit" of the top runway collections, Kirna Zabete has been launching both new designers and new moods in fashion for 11 years. In 2008 Kirna Zabete launched its e-commerce store, located at: http://www.kirnazabete.com
###